Hi everyone! My name is Renee and I have been a cast member on Barely Legal in Oakland for the last 3 years. Recently I was kicked off cast under rather unfortunate circumstances. I don't expect I will be returning to Rocky in the future, due to the nature in which I've been forced to leave, so I have decided to sell my costume collection. I'm very sad to do that, I'm quite proud of all the costumes I've acquired over the years, especially some I've recently acquired with the help of some you wonderful people in the community. However I think its time for me to move on, so I will be listing all of my costumes on ebay. I have complete Janet and Columbia costumes, with a couple of back up pieces for each character, as well as a few other miscellaneous costumes. I hope you guys will enjoy these costumes as much as I have.
Janet Hat #1
This hat is off white felt. It has a sheer ribbon, which is just tied into a regular bow. I think it used to be a men's style hat, so the brim isn't quite as wide as it should be, and the hat is sort of flimsy overall, but I think it still looks pretty good on.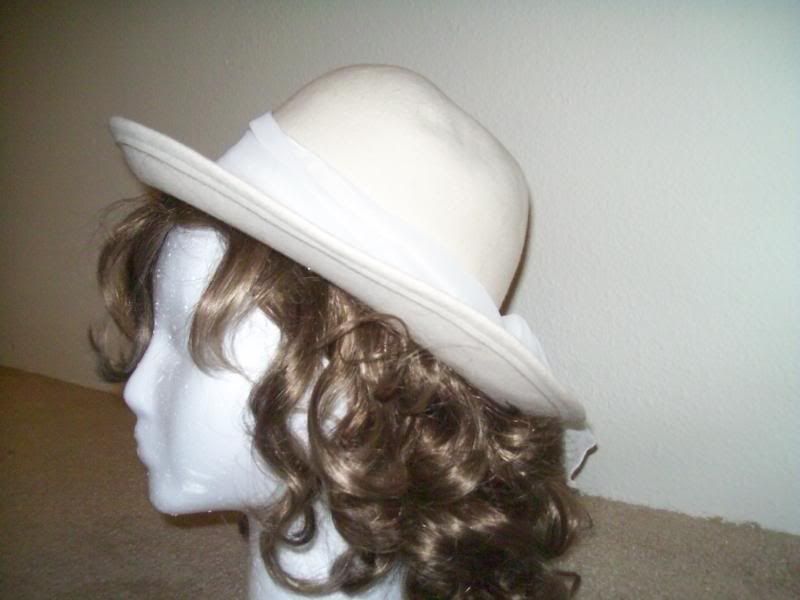 Janet Hat #2
This one is much nicer than the previous Janet hat. Still off white felt but with wider brim, and much sturdier. Still has the original ribbon that came with the hat.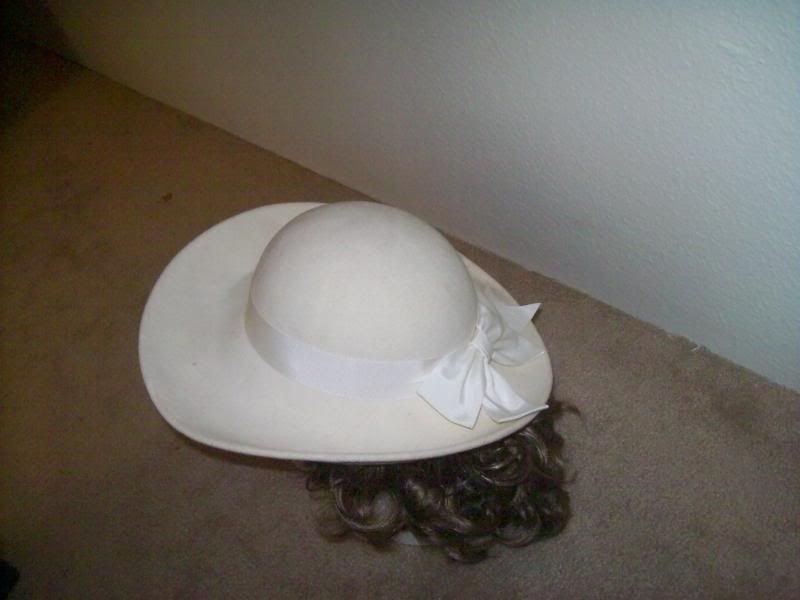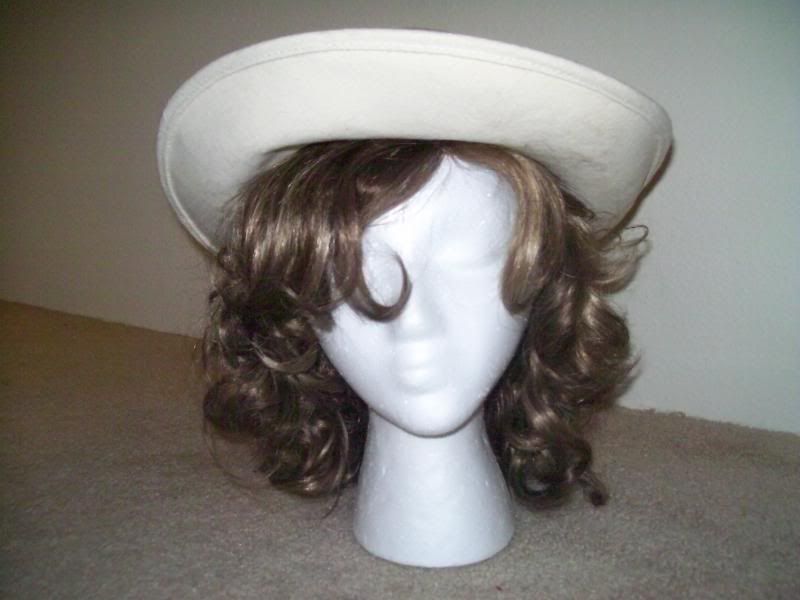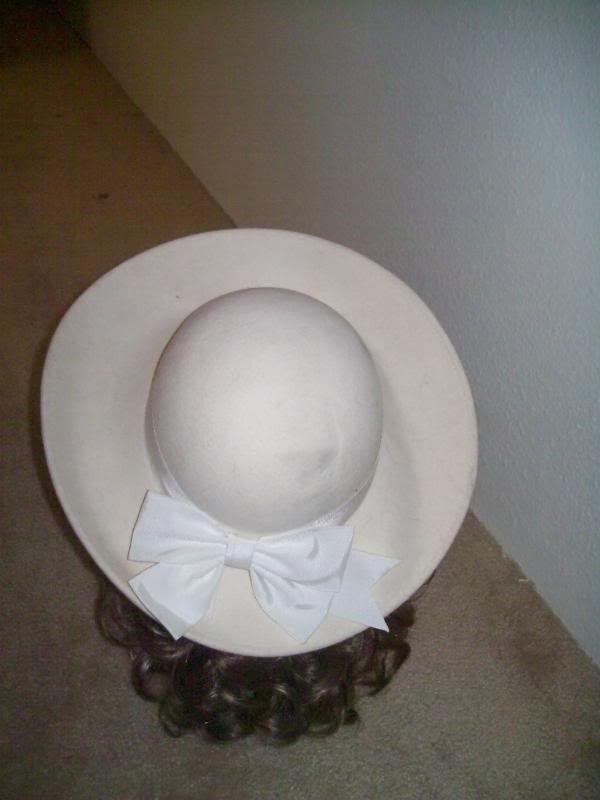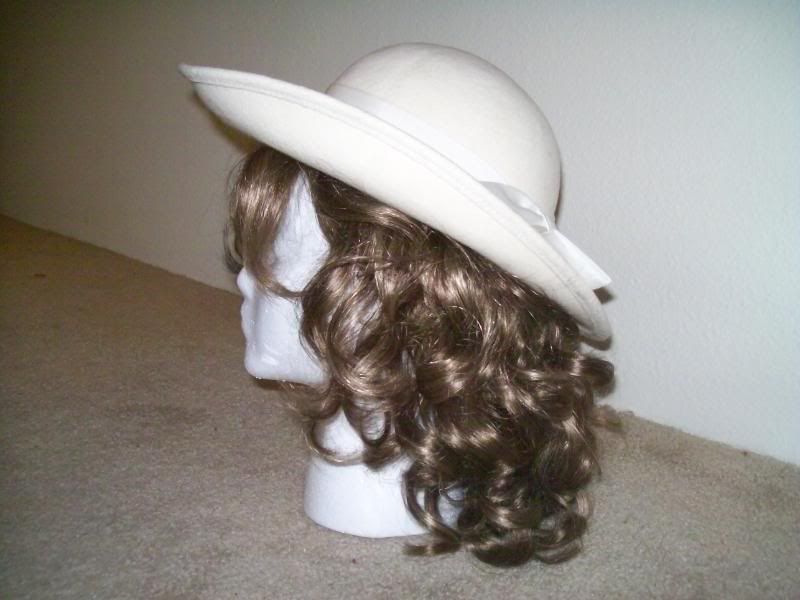 Janet Wedding scene shoes:
They are size 7, flat black leather, not patent, and in good condition. They also fasten with velcro which is great for quick changing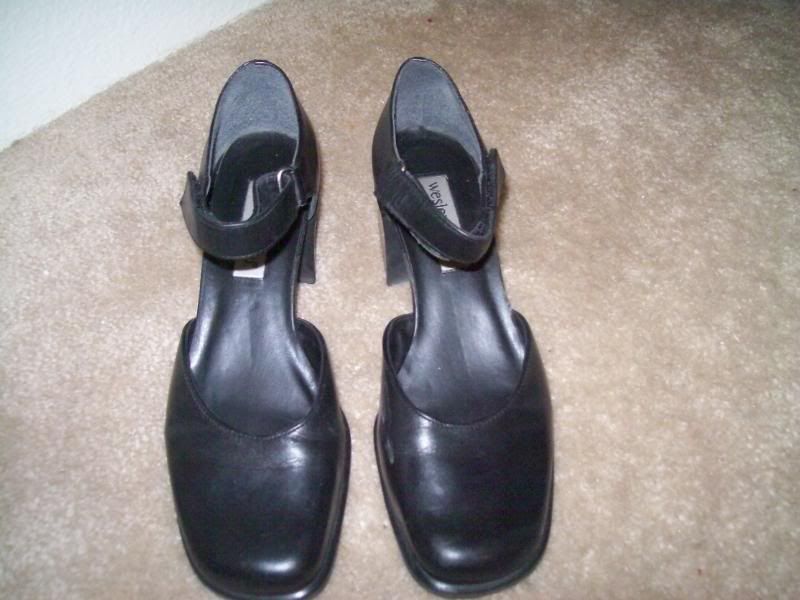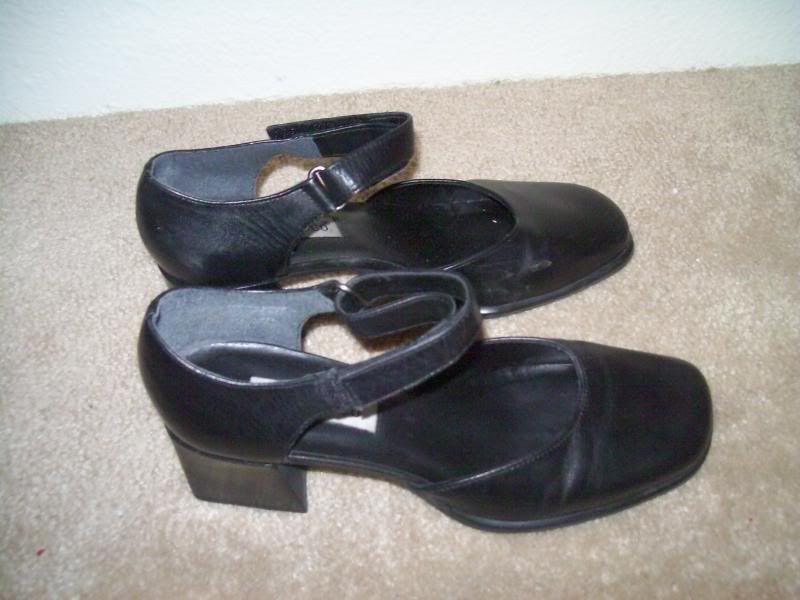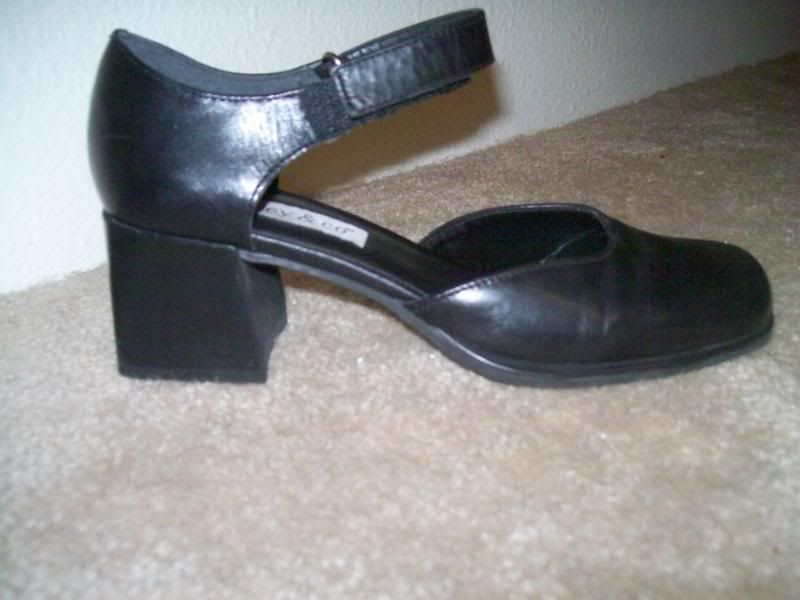 Janet White Mary Janes
Size 7, White patent, made by Pleaser. They have a few black scuffs, but are otherwise in good condition.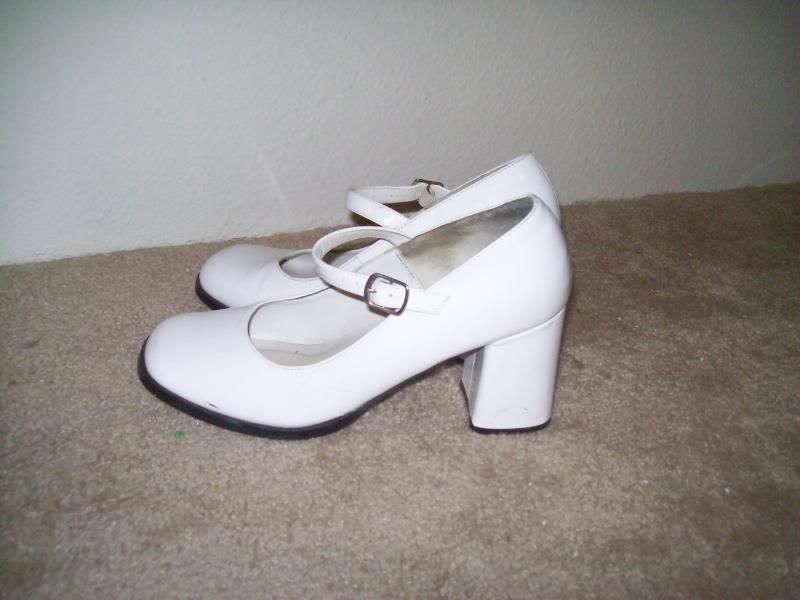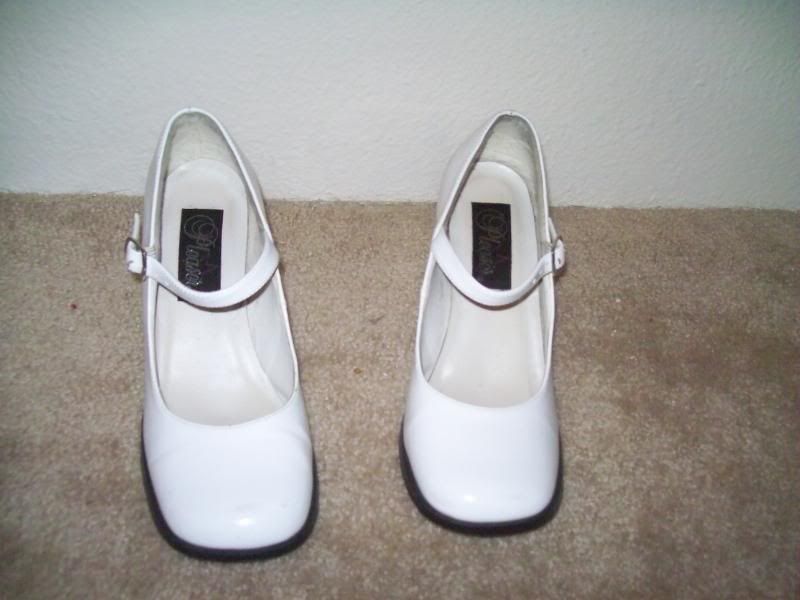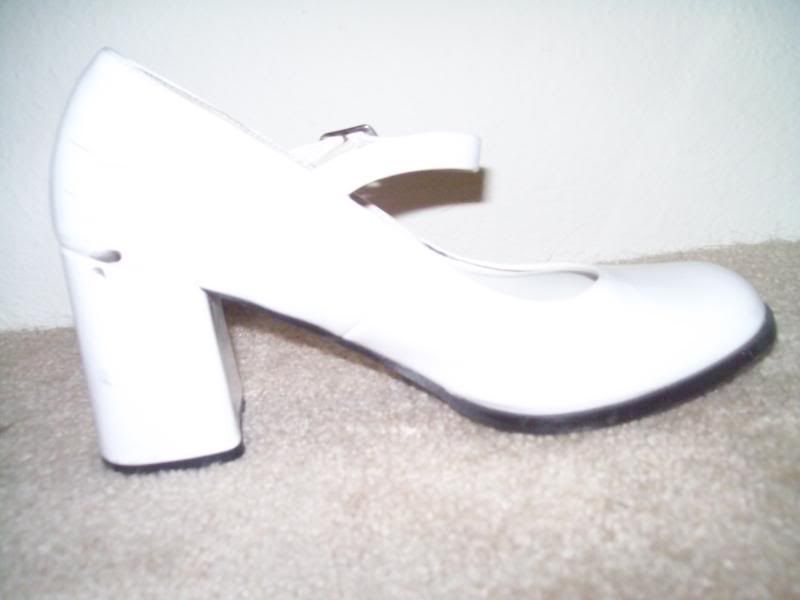 My Starter Janet Purple Suit
This was my first Janet suit. I bought a purple double breasted suit then altered the top to look like Janet's purple suit. I'm not much of a seamstress, so up close, the sewing isn't that great, but it looks great from stage. The hook on the skirt is only attached on one side and needs to be repaired. Tags say size 4.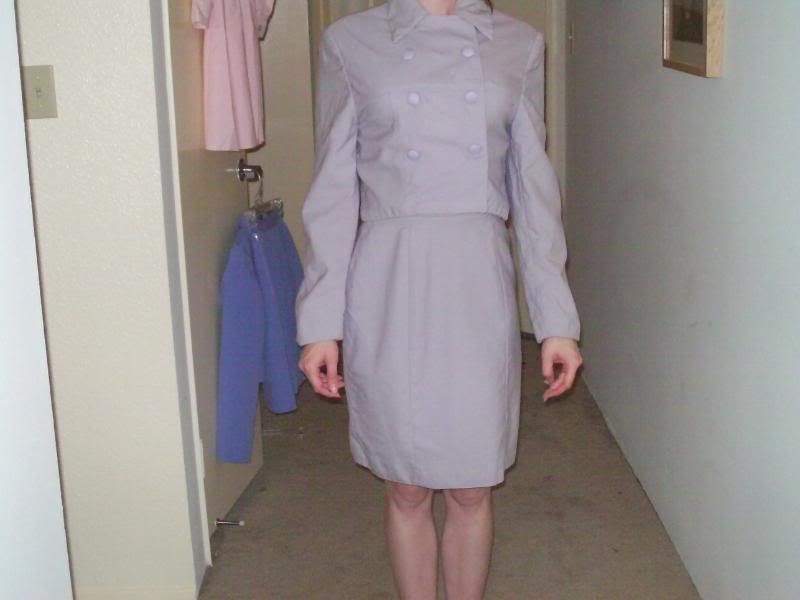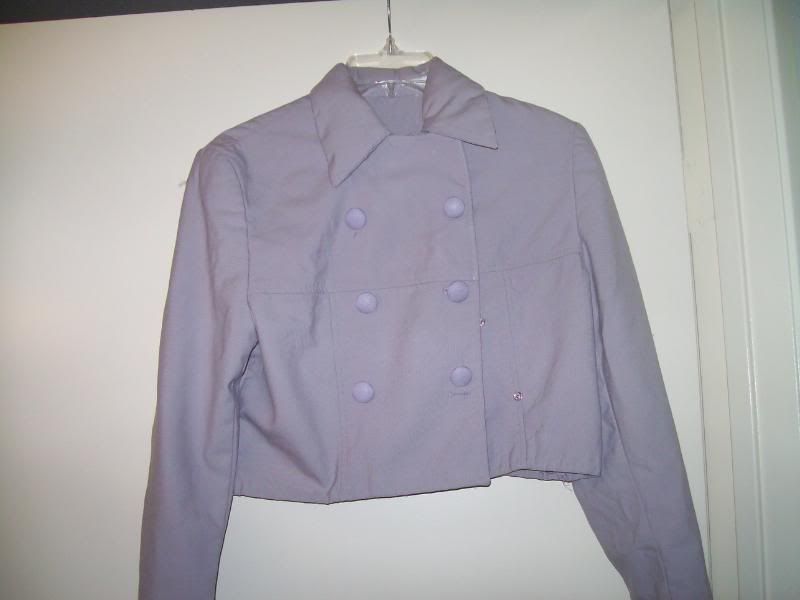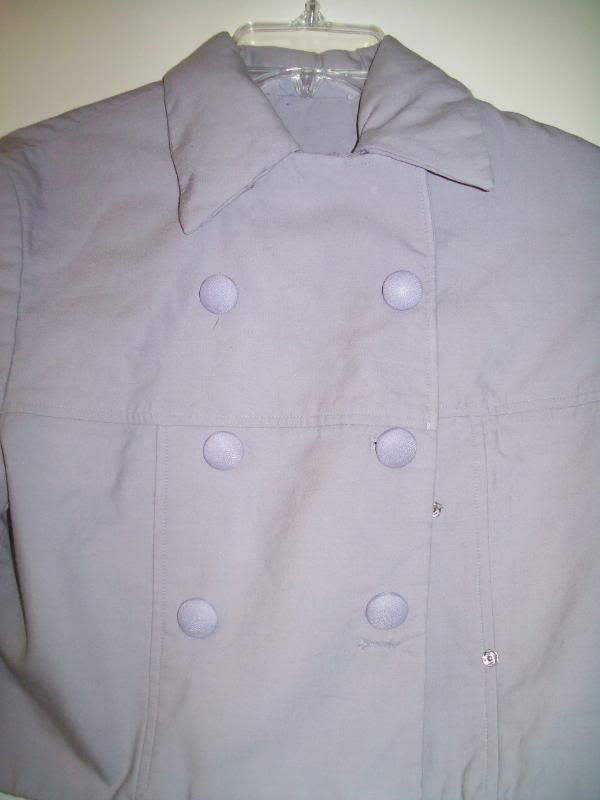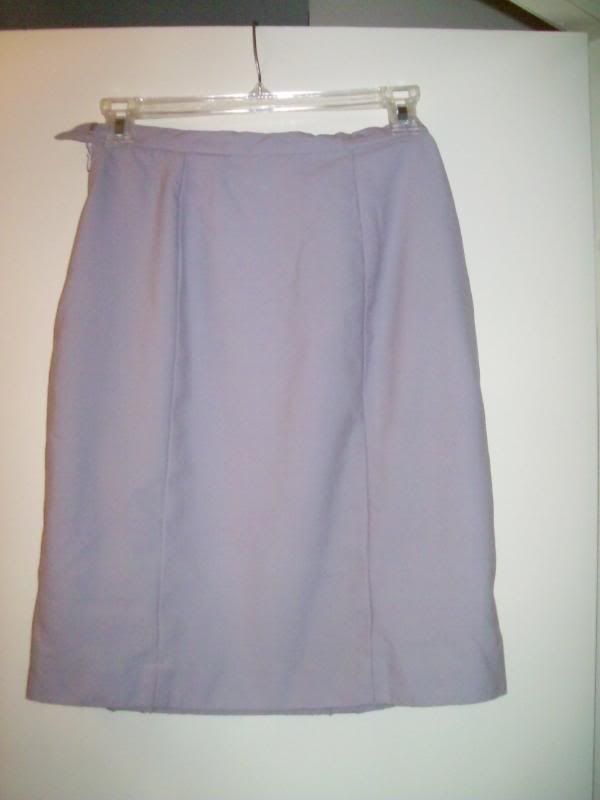 SA Janet Wedding Scene Purple suit
One of my newest and most favorite costume pieces. I bought it from Rebecca (Queenazura). It fantastic, and needs a good home. Here is her post about the suit, it includes a good description
http://community.livejournal.com/rhpscostumes/474922.html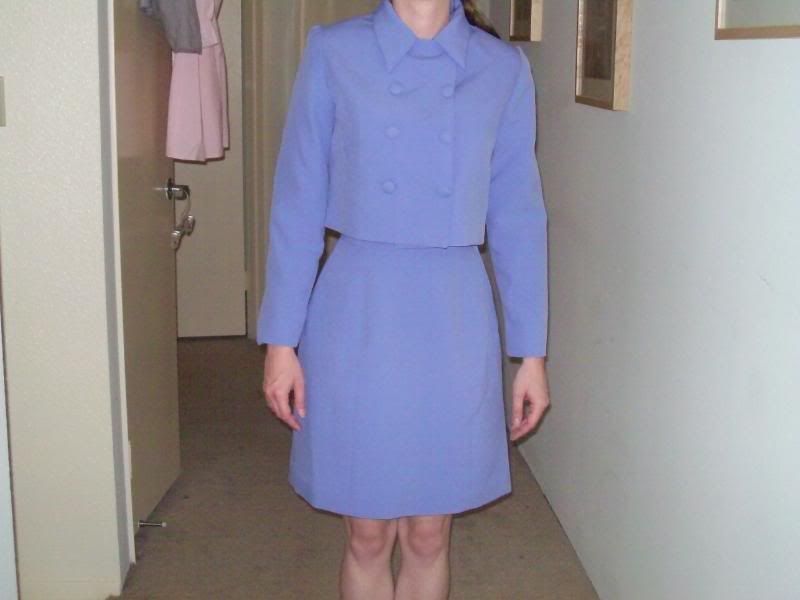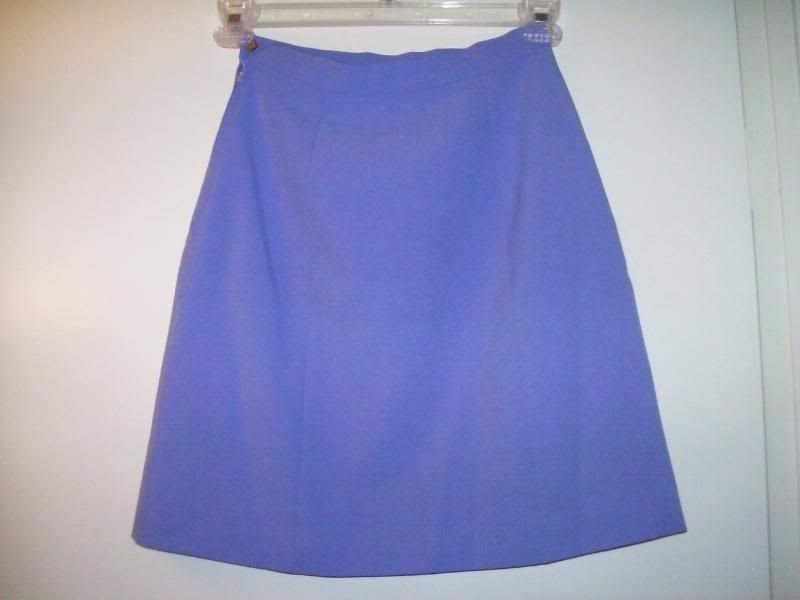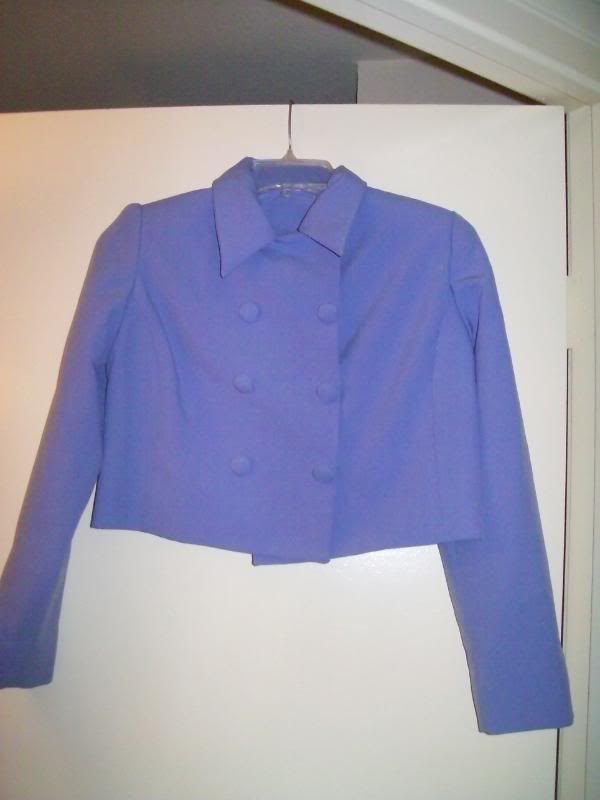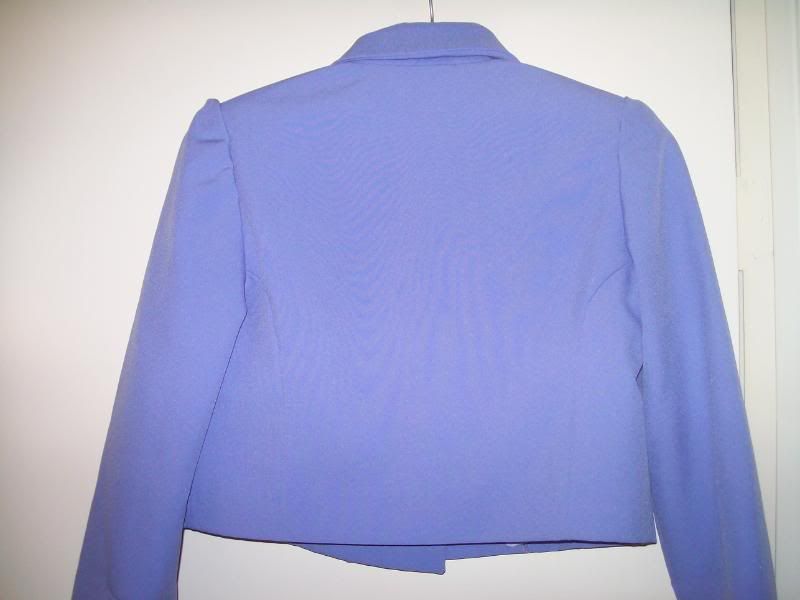 5 Pairs of Circle Janet Barrettes
1 Inch plastic Barrettes. I bought the store out when I found them. I painted one pair white with white nail polish, and kept the rest as back up and never got around to painting them since I never lost the first pair.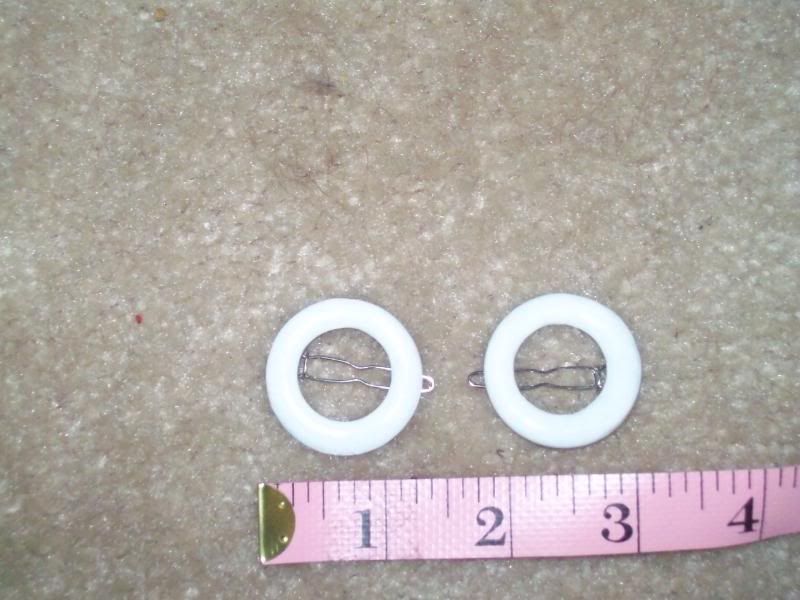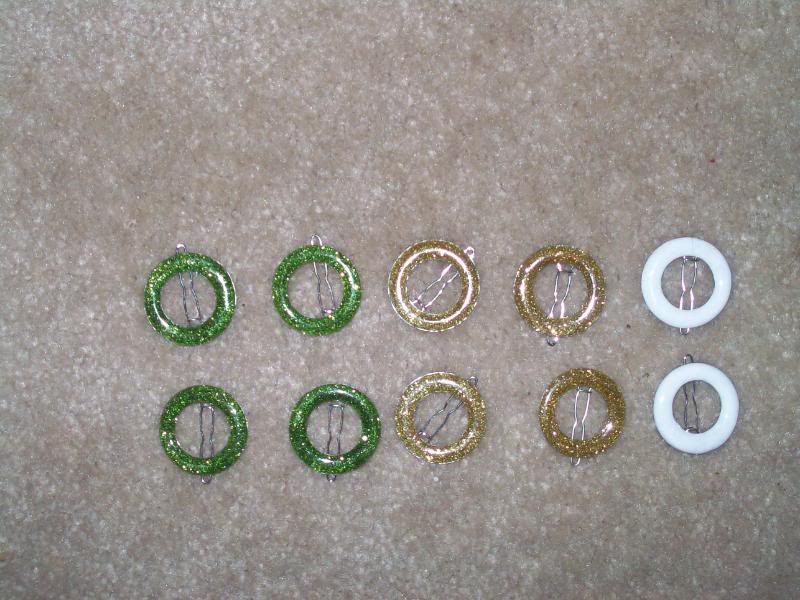 Janet Purse
White flat leather, not patent, with silver chain. I bought this purse at walmart a couple of years ago. I thought it was a little too thick so I cut out one of the compartments and glued it back together. Its held together pretty well though. Cardboard Hershey bar still inside!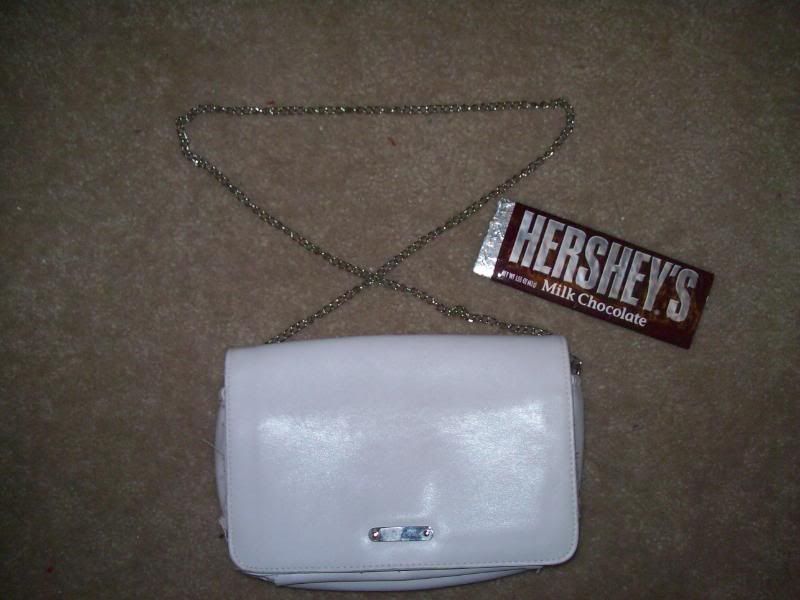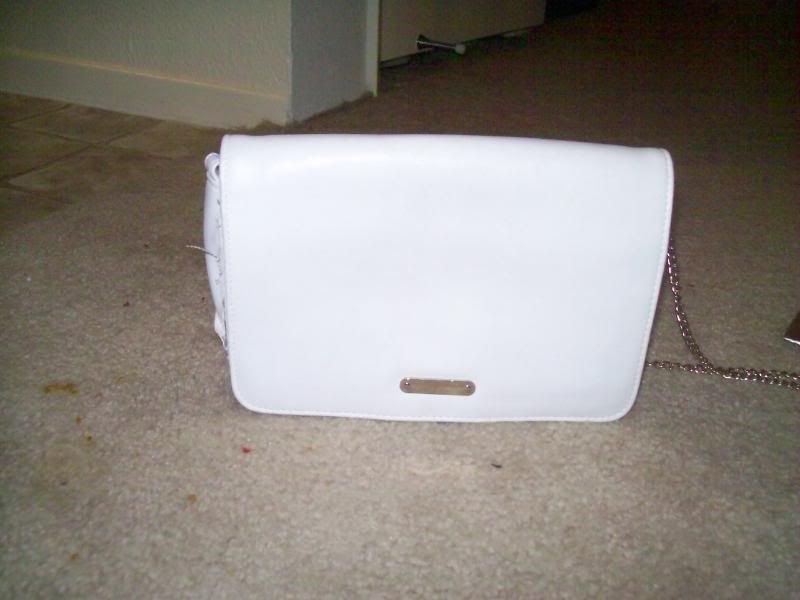 Frank Shoes
Size 7 shoes nine west shoes. I cut the peepholes myself. I used glitter paint on them, no actual glitter, so the white heels especially may need to be glittered more.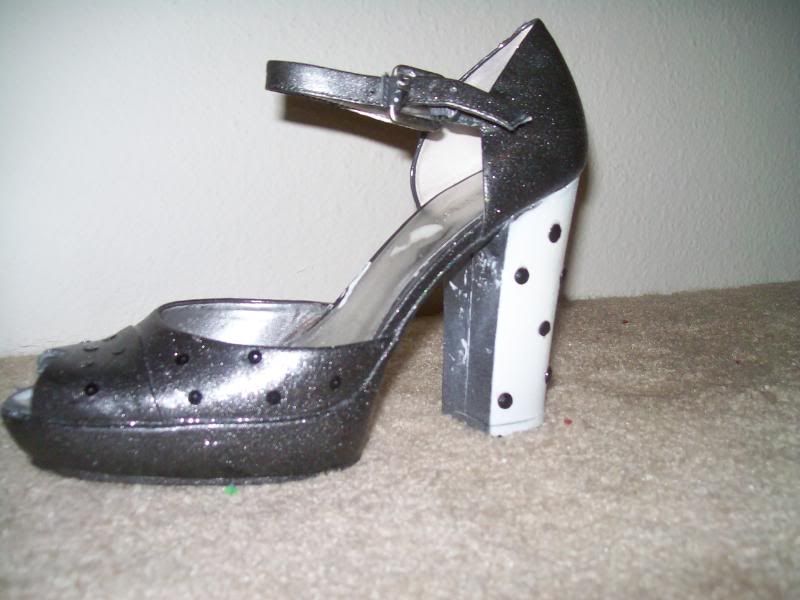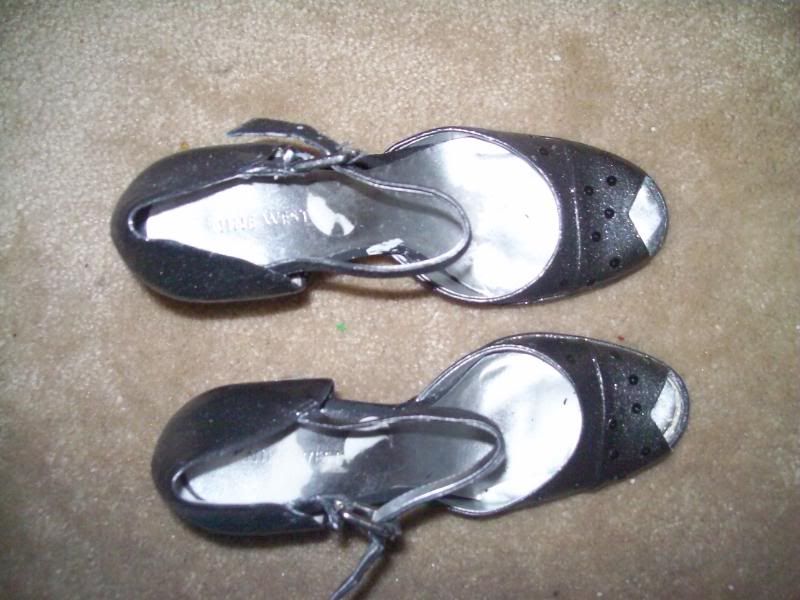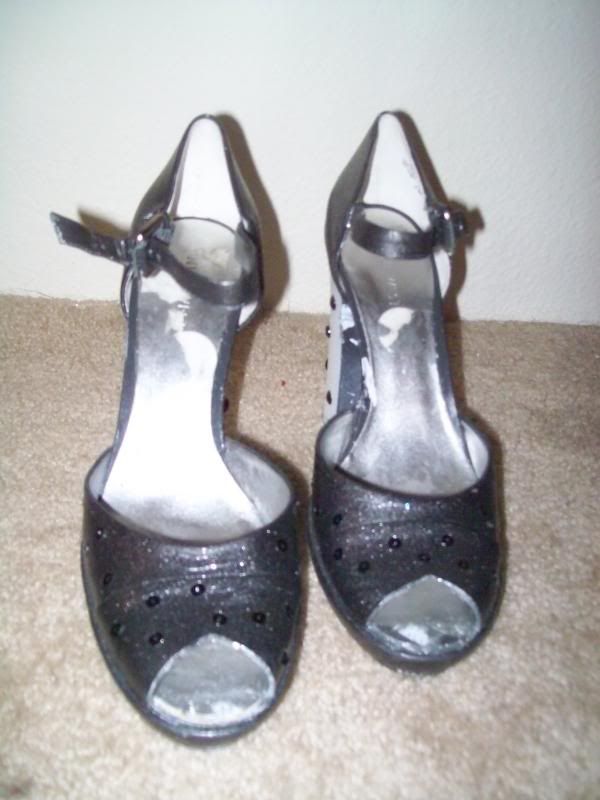 Brad cummerbund and bowtie
Brand new, never been worn. Says "one size" on tag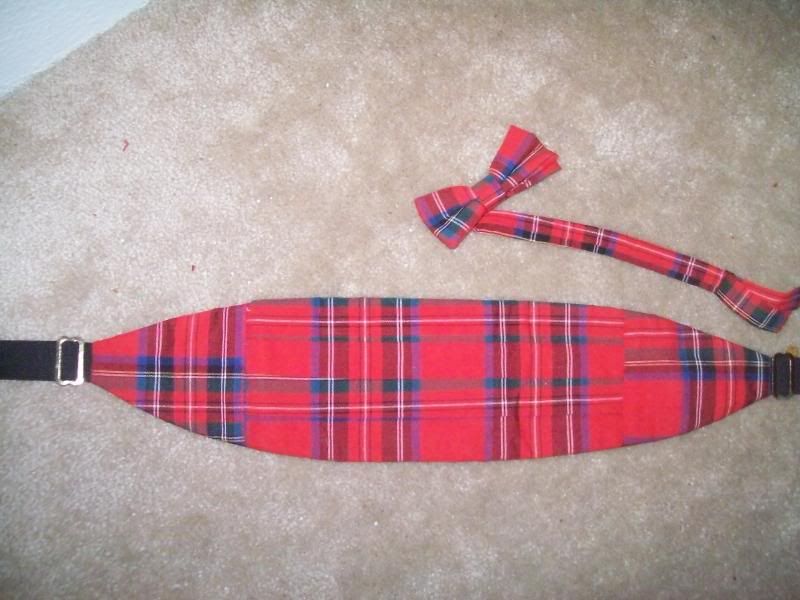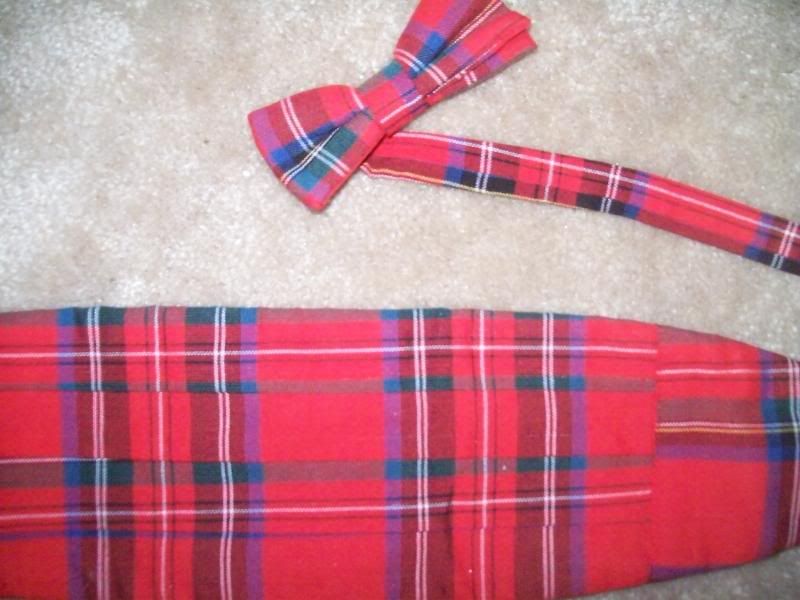 Columbia Shorts #1
I bought these used a few years ago from a former Midnight Madness cast member if I remember correctly. Despite being old, they are still in pretty good condition. Made by Jill and Missy. I would estimate they are about a size 5.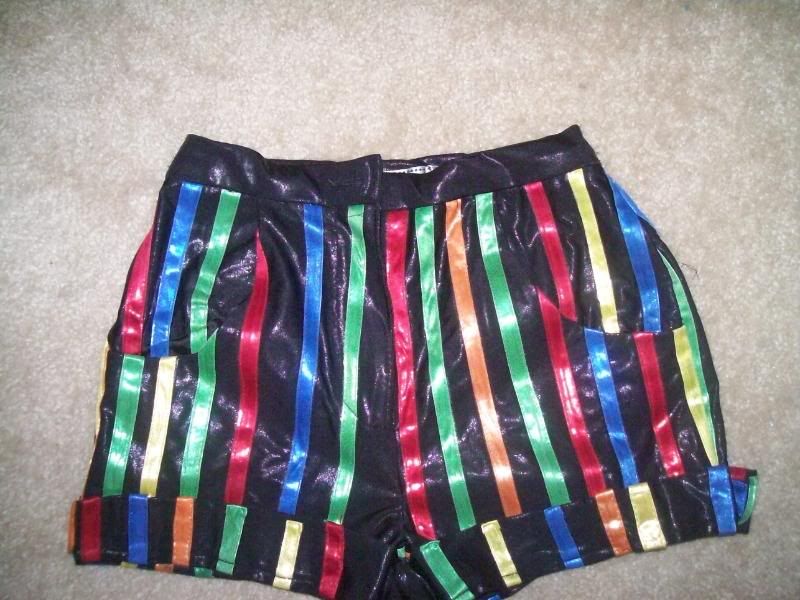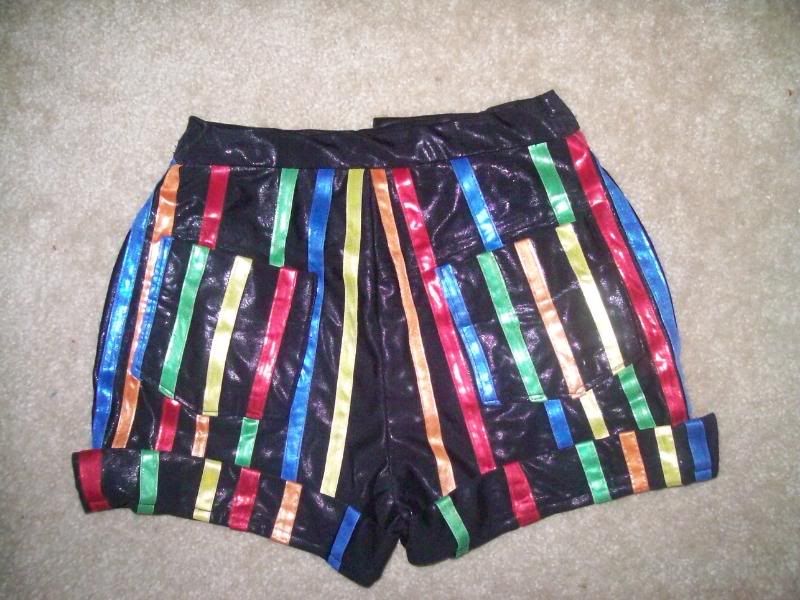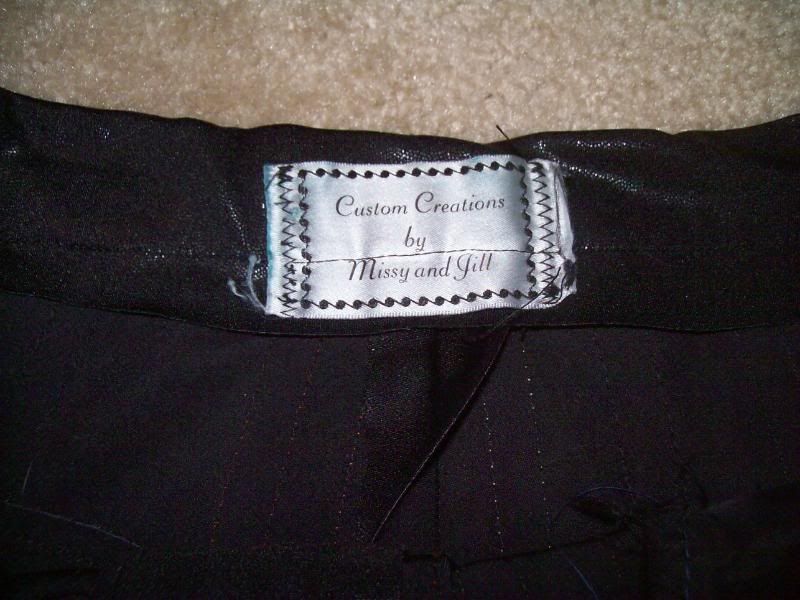 Columbia shorts #2
My newest costume piece! I'm so sad to see it go. Just had these made by Mina and they are lovely. I would estimate them to be a size 2 or 3. If you are familiar with Mina's shorts, these have a couple of differences- they do not have satin 5/8 and 3/8 ribbons. I requested she use a different kind of ribbon, which are a little shinier, and are all the same size- ½ inch. Also, the color sequence of the ribbons on the front of the shorts is not SA. But they still look fantastic, are well made, and are brand new.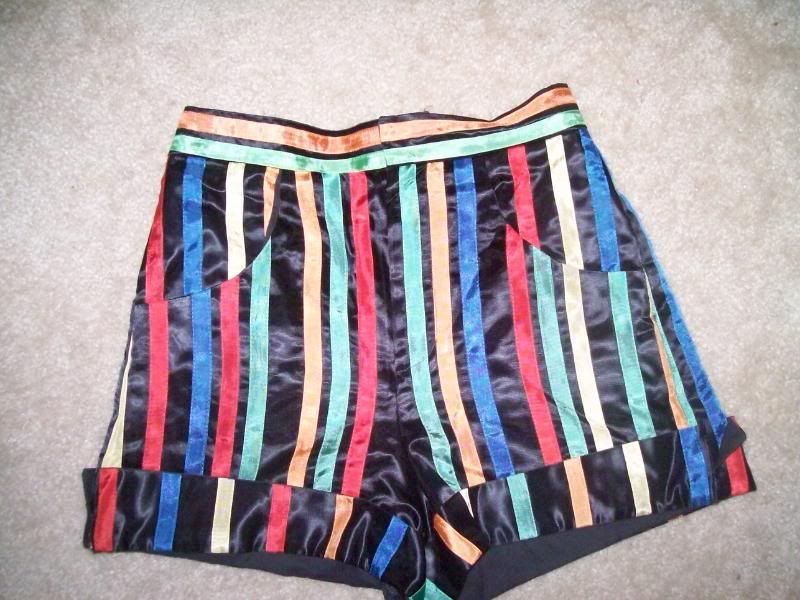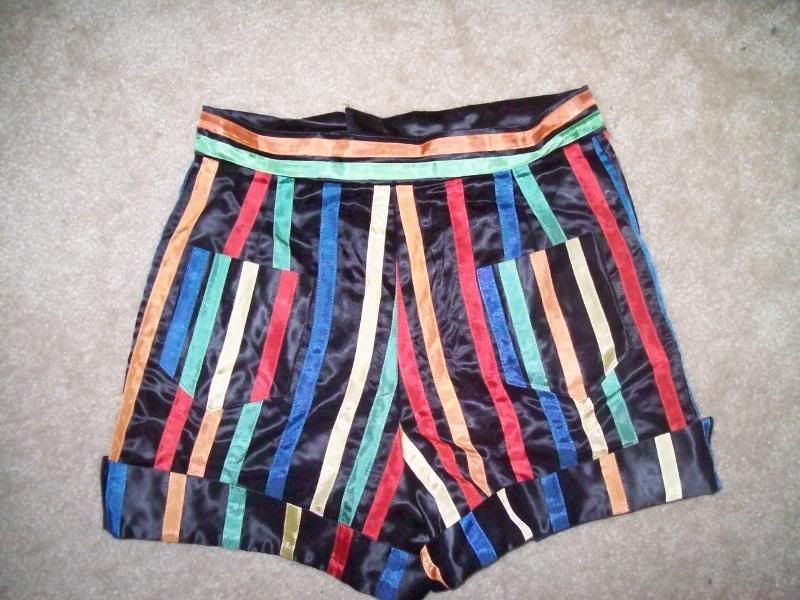 Black Floor show corset
I had this custom made by a seamstress who makes corsets, so its very well made, and is quite supportive. It's a flat black fabric, and has cup sequins glued on. A few sequins have fallen off but can be easily replaced. It zips up the back. It was custom made to my measurements, and I would estimate the size to be about a 32 C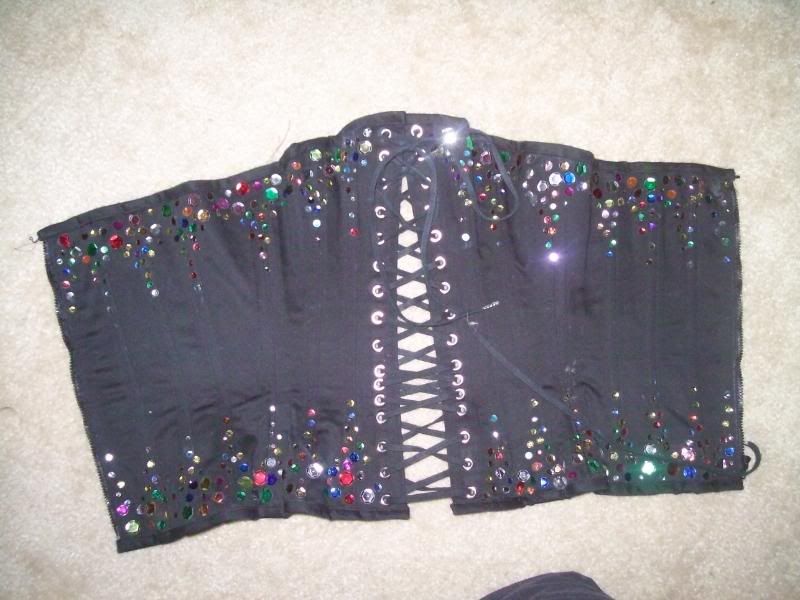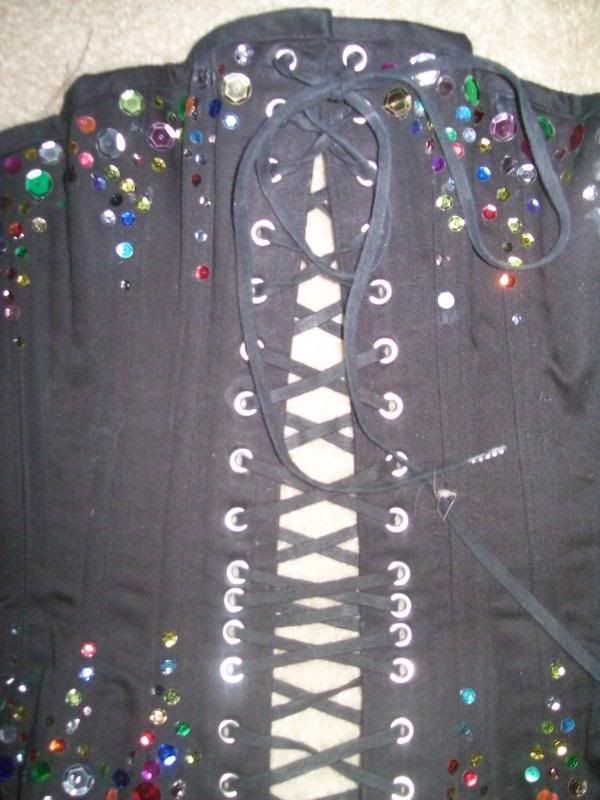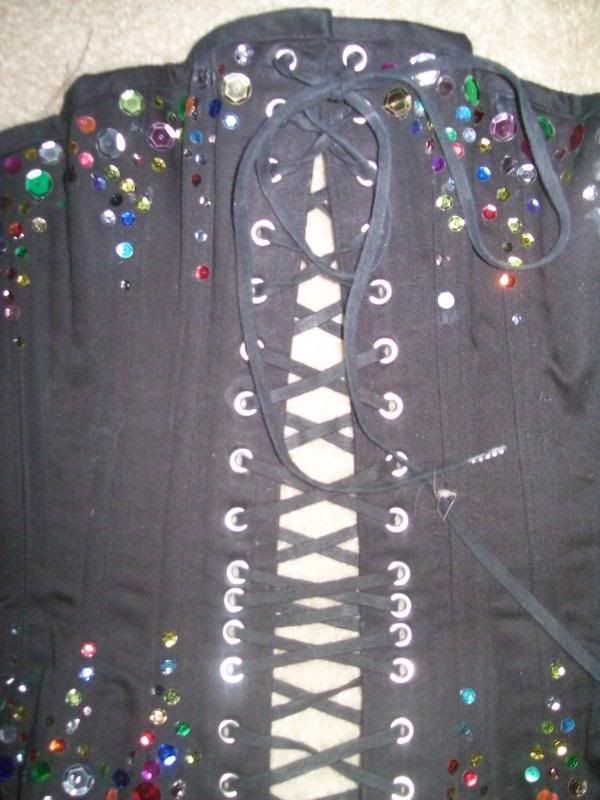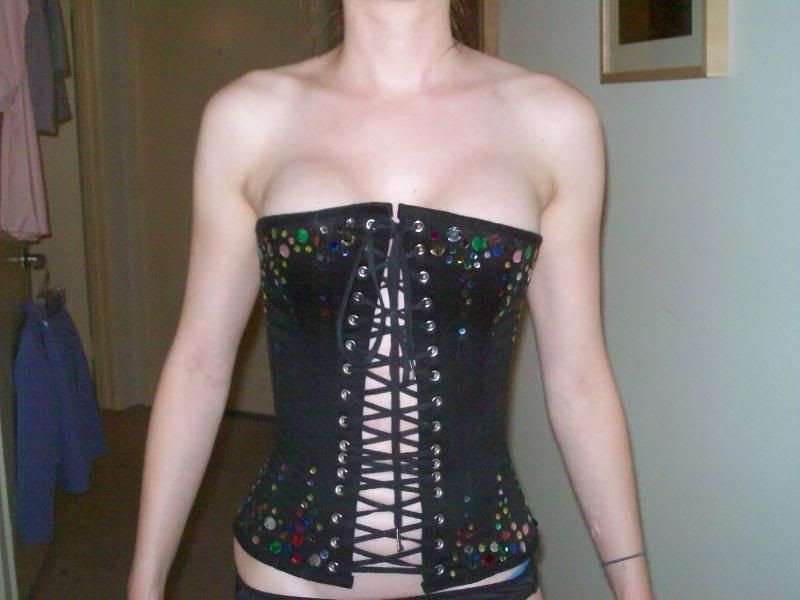 Floorshow garter belt #1
I bought this garterbelt commercially then added the red garters. It is a size small. There is a whole along the center seam in the front of the garterbelt. I think with a little sewing and some fabric glue it could be easily fixed. It says size small, but I would prob classify it as XS. I'm pretty petite, but I had to add a black bra extender to the back of this to wear it. I'll leave the extender on there in case you want it.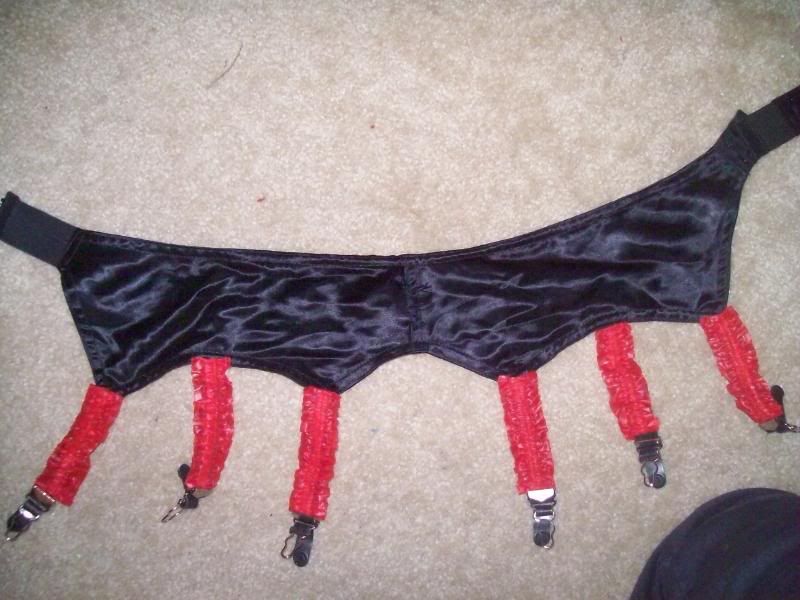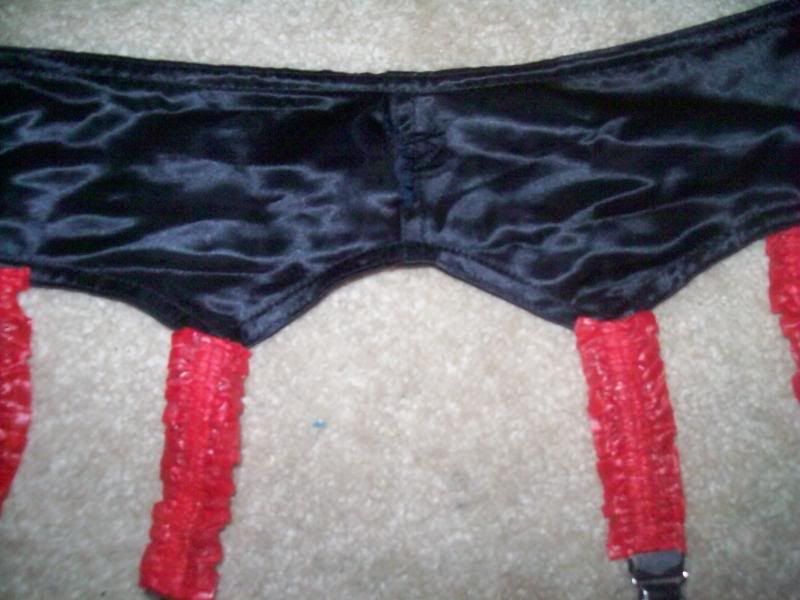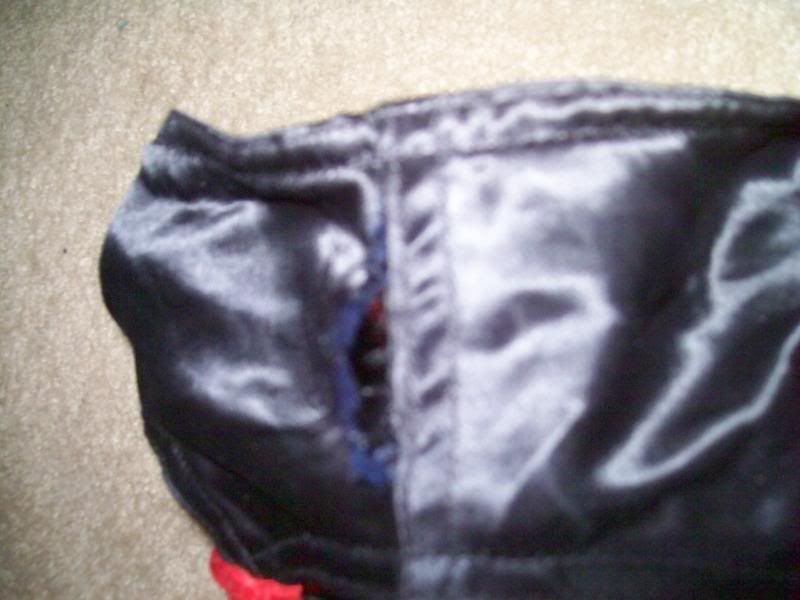 Floorshow Garterbelt #2
I purchased this used. It was custom made for another performer. Its fairly old and the satin is fuzzy in a few places from wear. Also the hooks in the back were replaced before I bought it and are a little wider than the garterbelt. The garters on this are quite long and would be best for a tall performer. Size Small.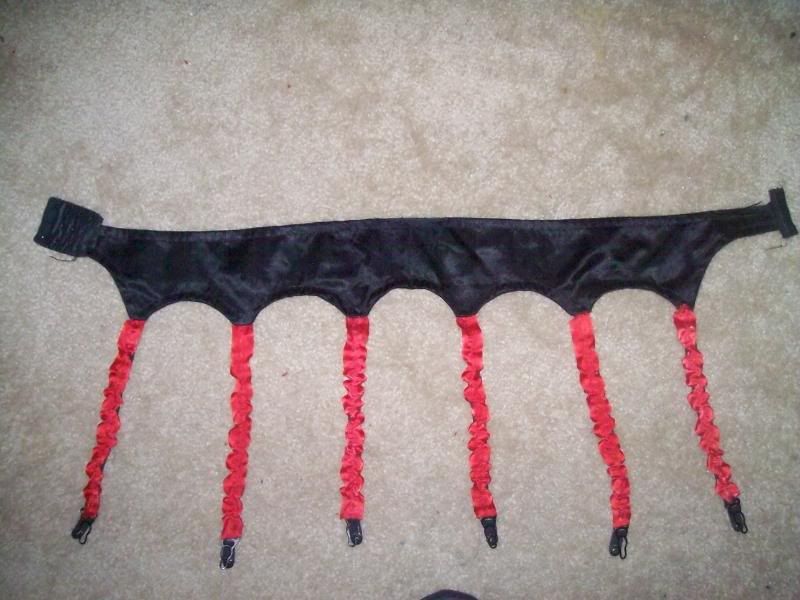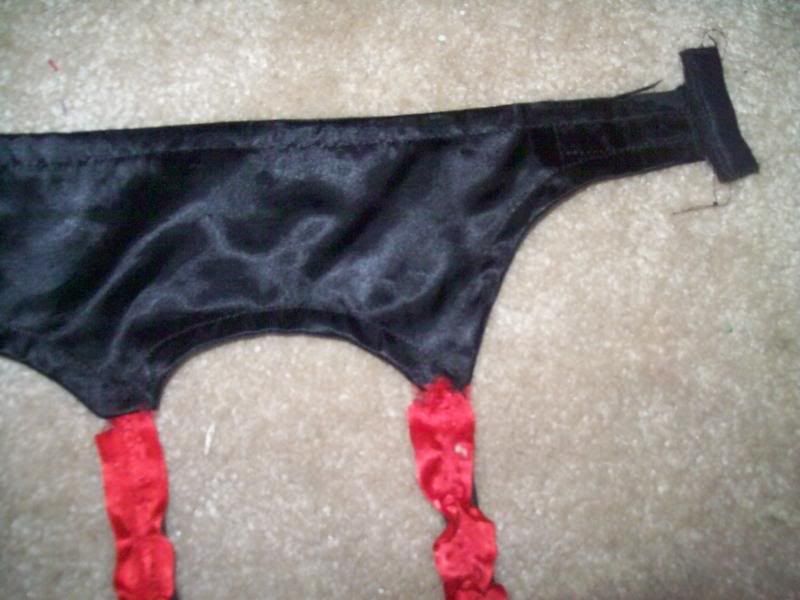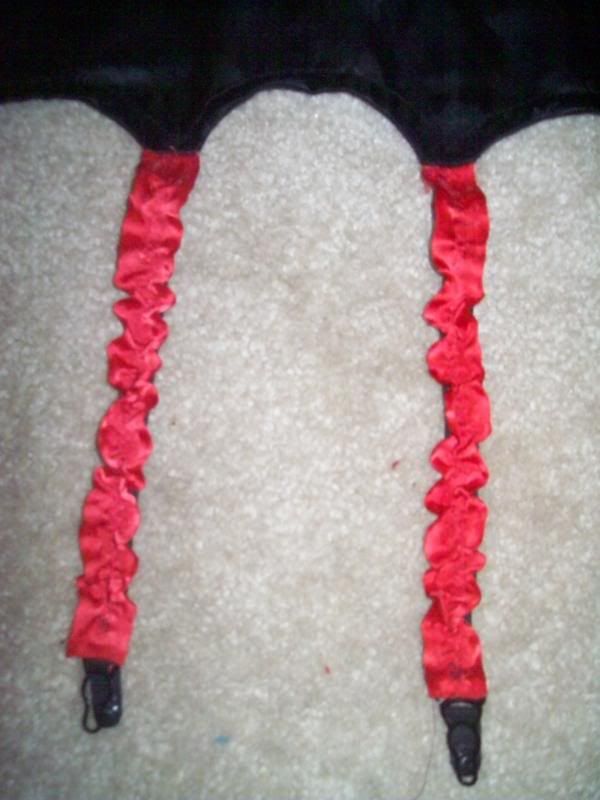 Floorshow gauntlet # 1
Purchased from Liz a few years ago. The feathers are starting to look a little droopy, but not too bad. The sequin part is still in very good condition. The fabric is stretchy and I think it is a one size fits all sort of thing.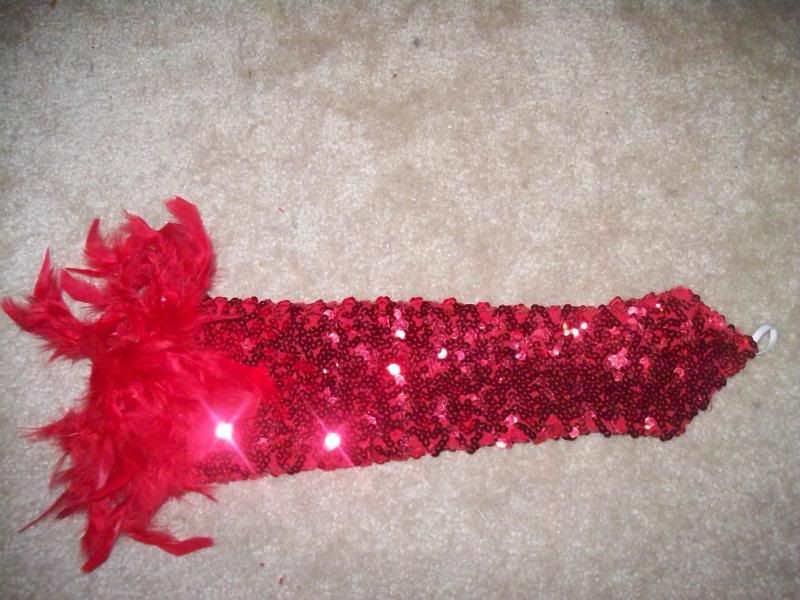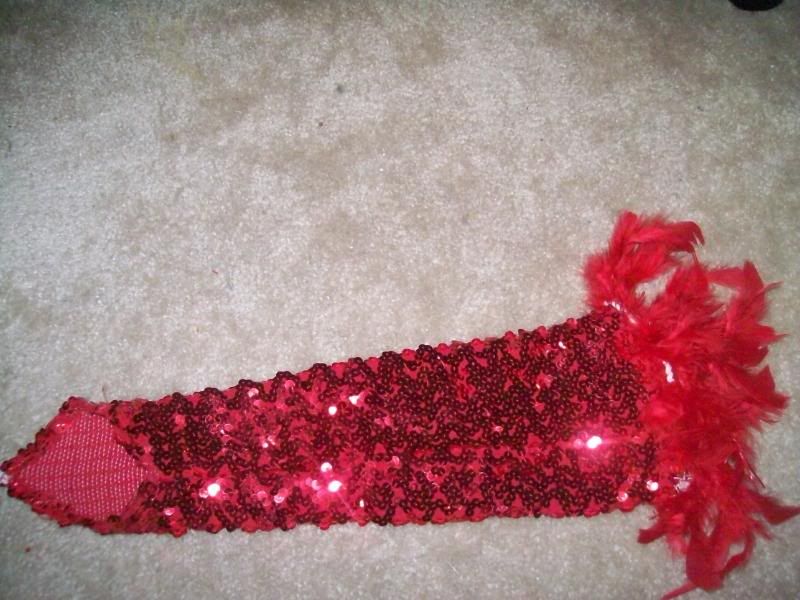 Floorshow gauntlet #2
This gauntlet is made from a non stretchy red sequin fabric. It is for someone with a small arm and will not stretch. The feathers are very fluffy. The finger loop came unsewed on one side but can be easily fixed.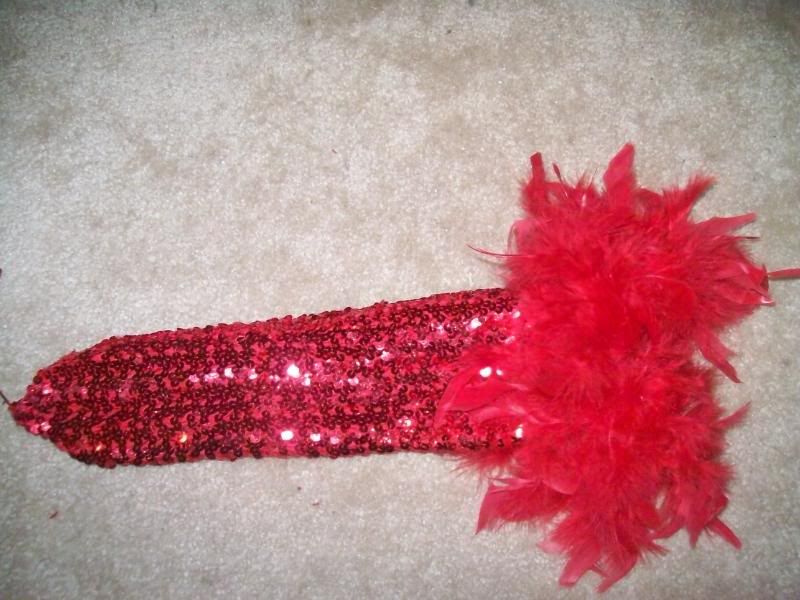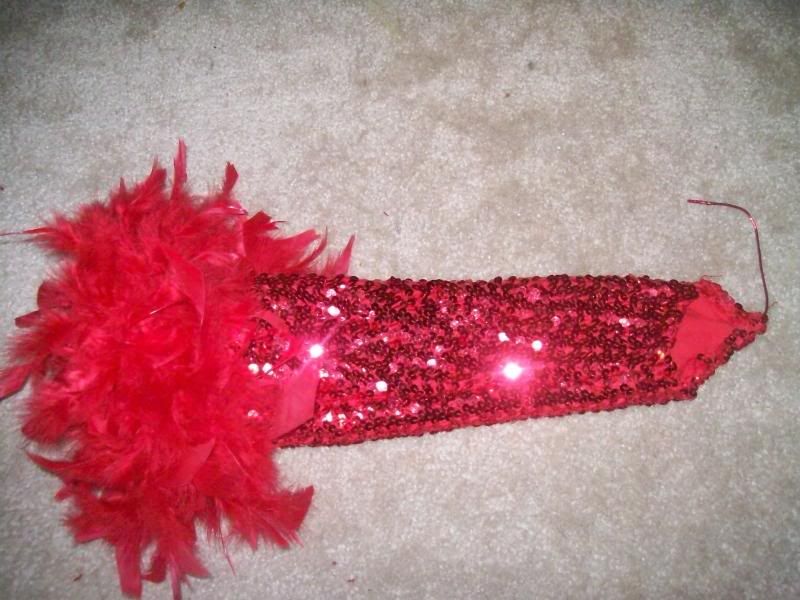 Columbia Bustier
Had this custom made by a seamstress on cast. Has SA colored sequins, however it is not made with Larry's fabric- is made with one inch sequin trim I found online a while back. It has a couple spots where the sequins trim is coming up a bit, but overall in good condition. *important* there is no boning in this bustier. I didn't want to get stabbed with boning while dancing around in this, and since my boobs are fake and stay up on their own, I had this made with no boning. So you will probably want to wear a bra with this. This was custom made for me, so I don't have an exact size but I am 35 inches around my bust, and about 27 inches around my waist. This top isn't tight on me so there may be an extra inch or two, however this top does not stretch.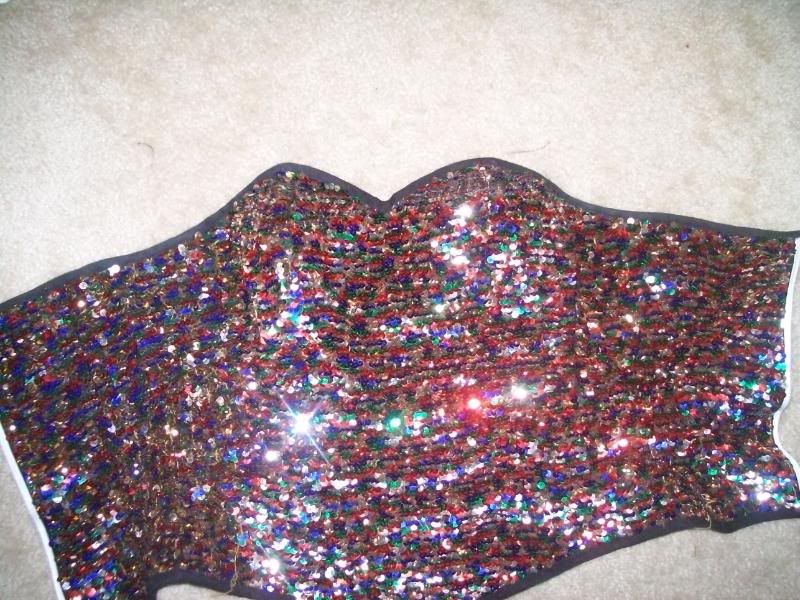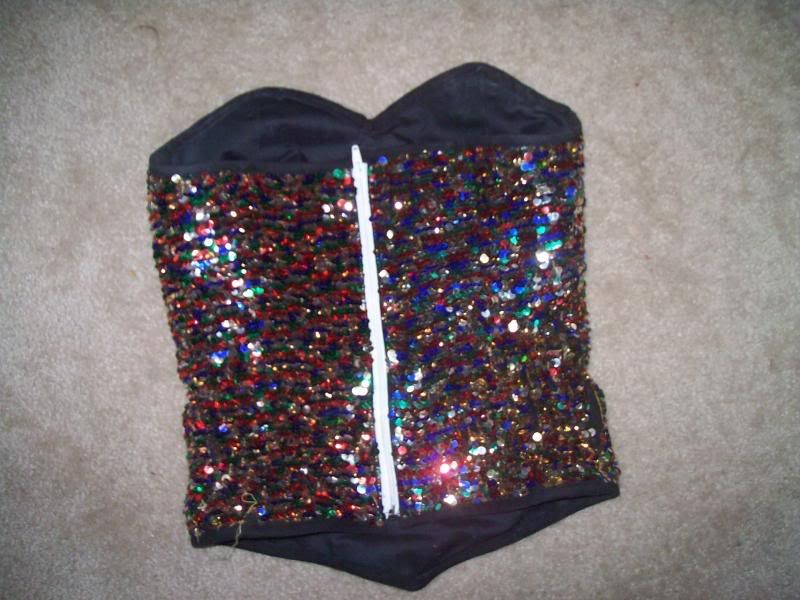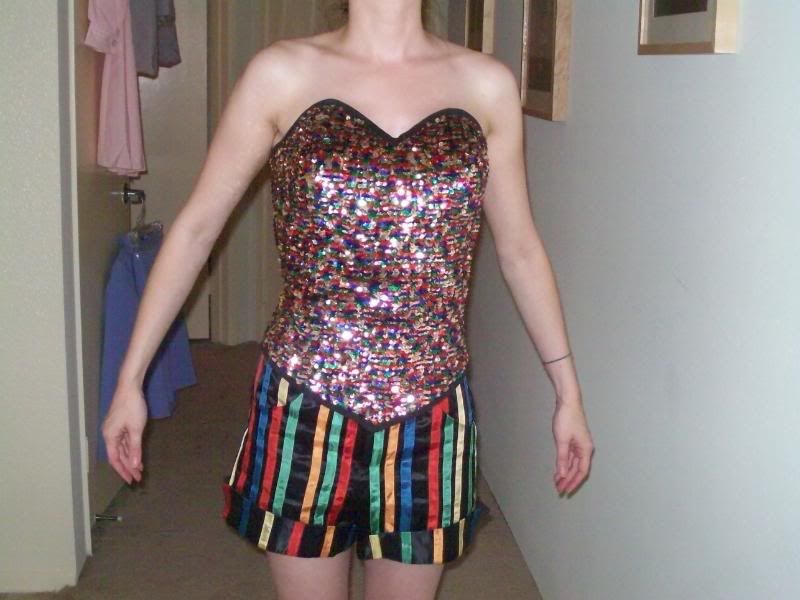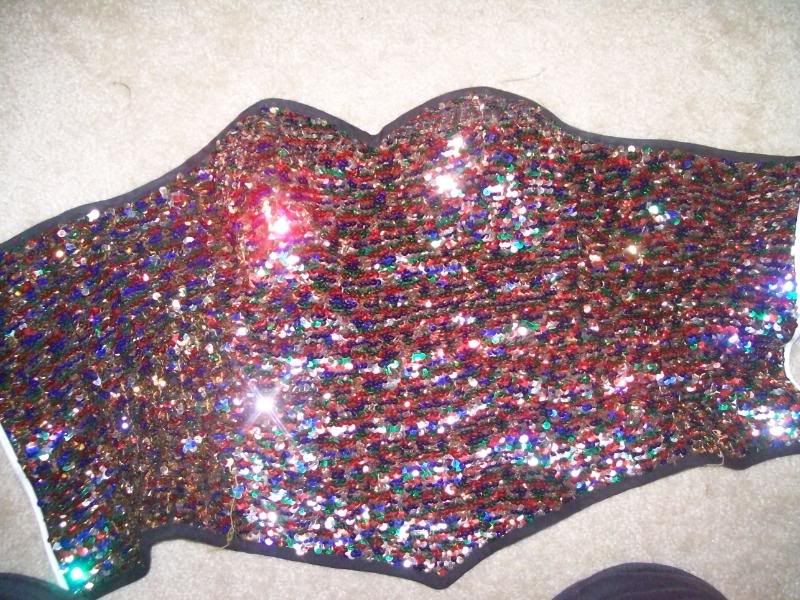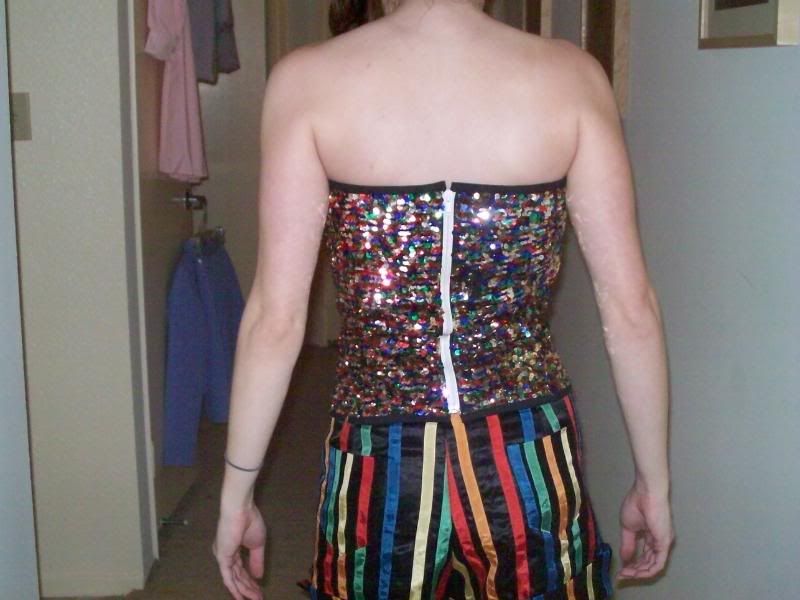 Columbia bow tie # 1
Purchased from Liz a few years ago. Has a little fading on the sequins at the very top but is otherwise in good condition.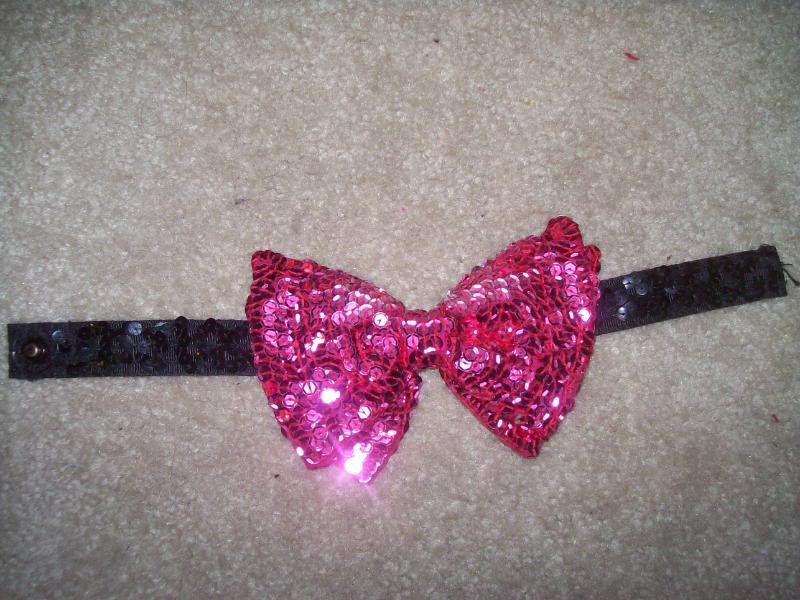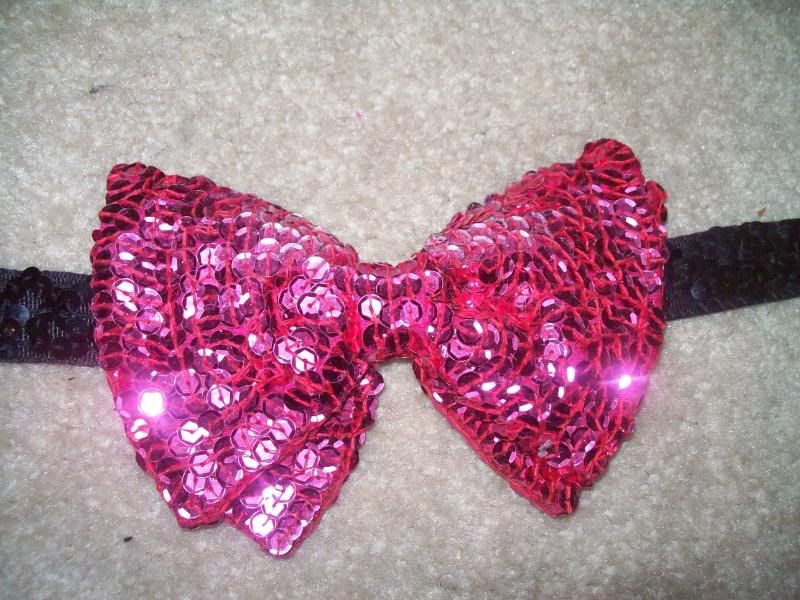 Columbia Bowtie # 2
Purchased recently from liz and in great condition.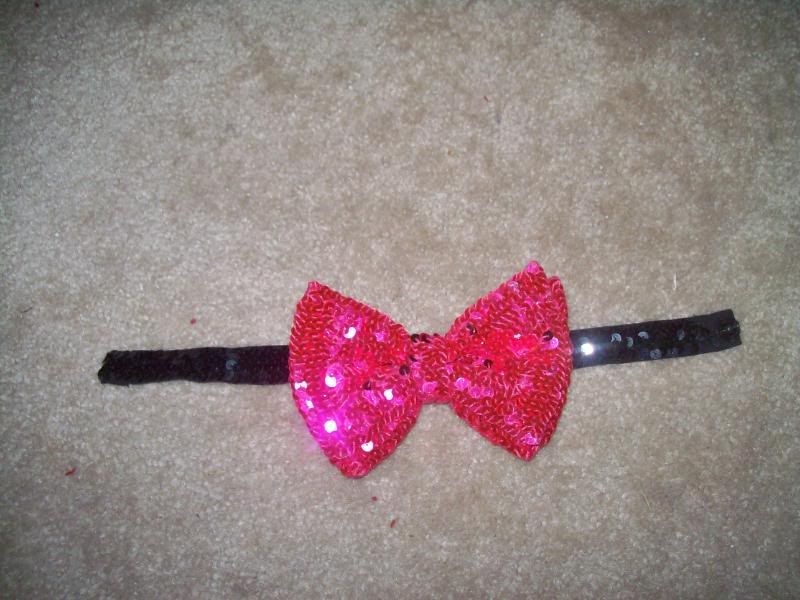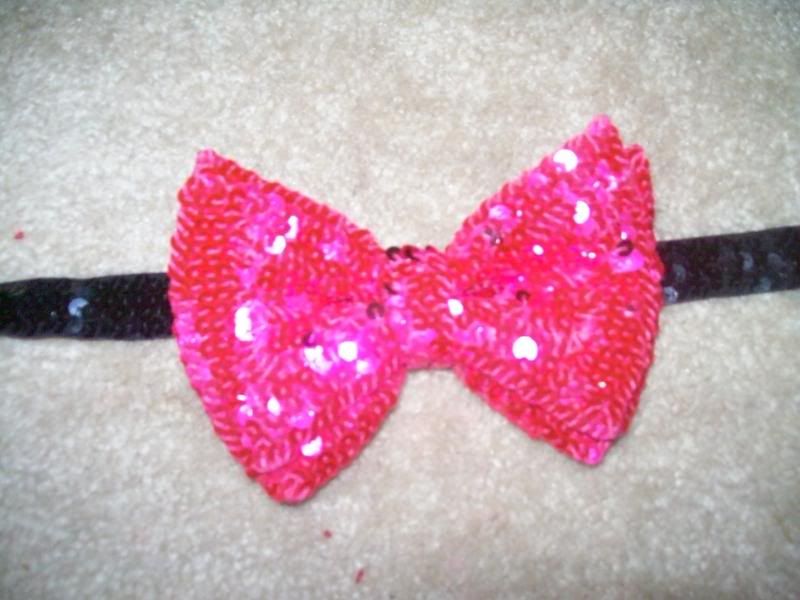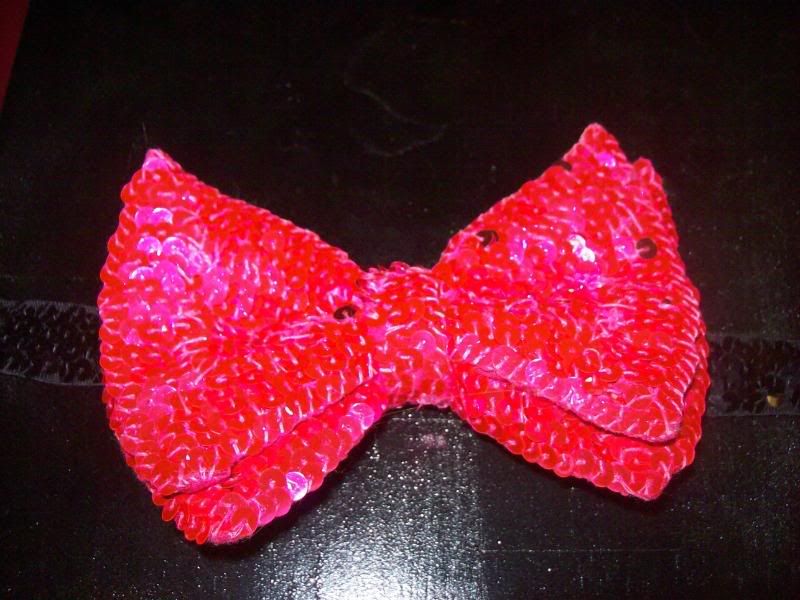 Columbia hat
I bought a hat from a costume store and covered it myself. I didn't have gold sequin fabric I liked, so I actually covered the whole hat in gold fabric, then glued on single strand sequins myself.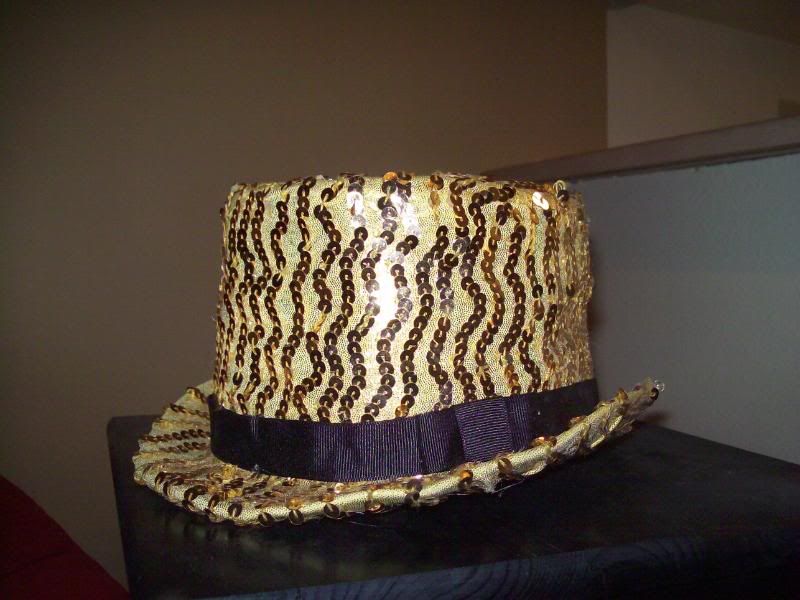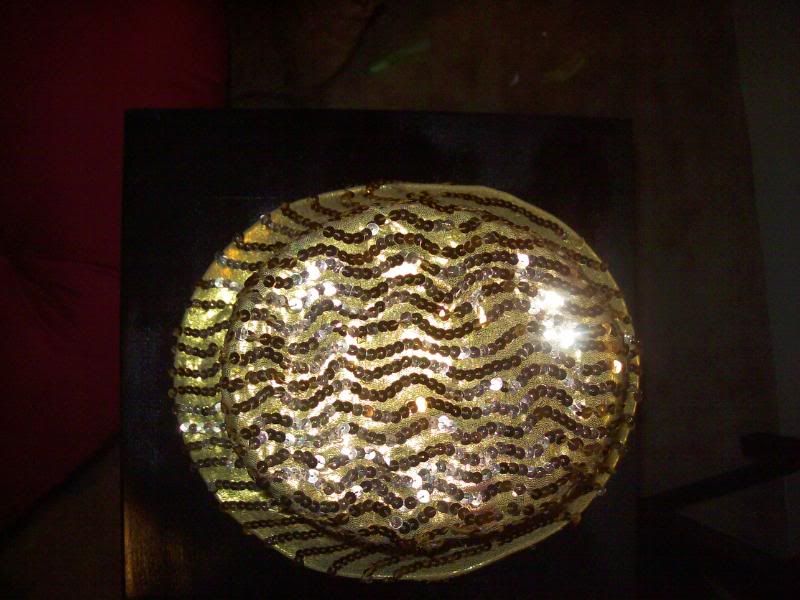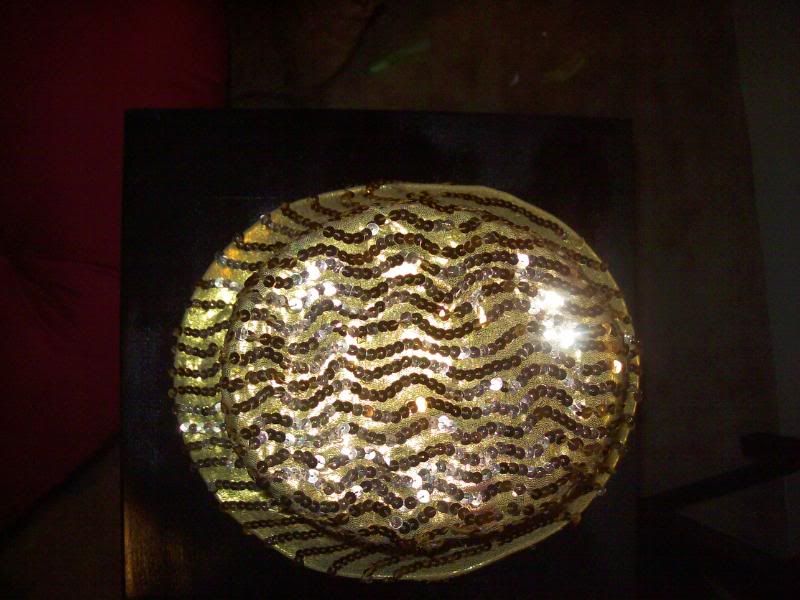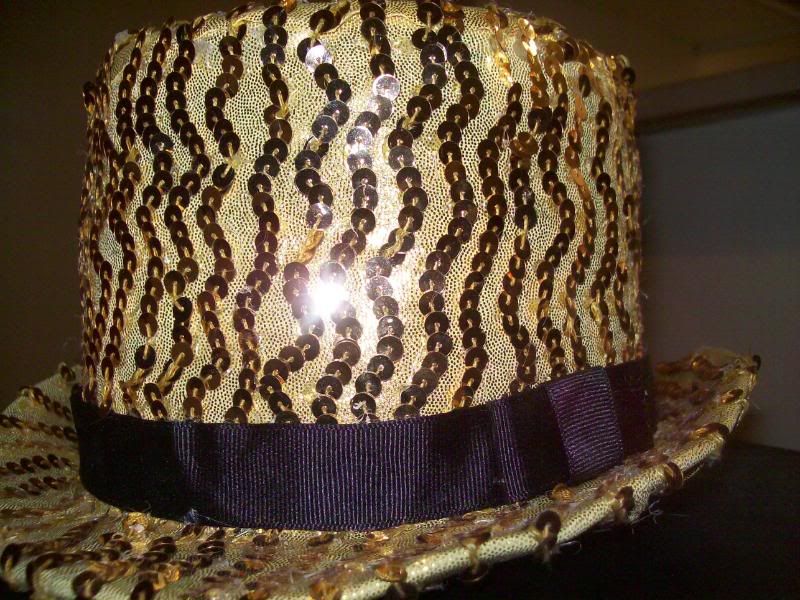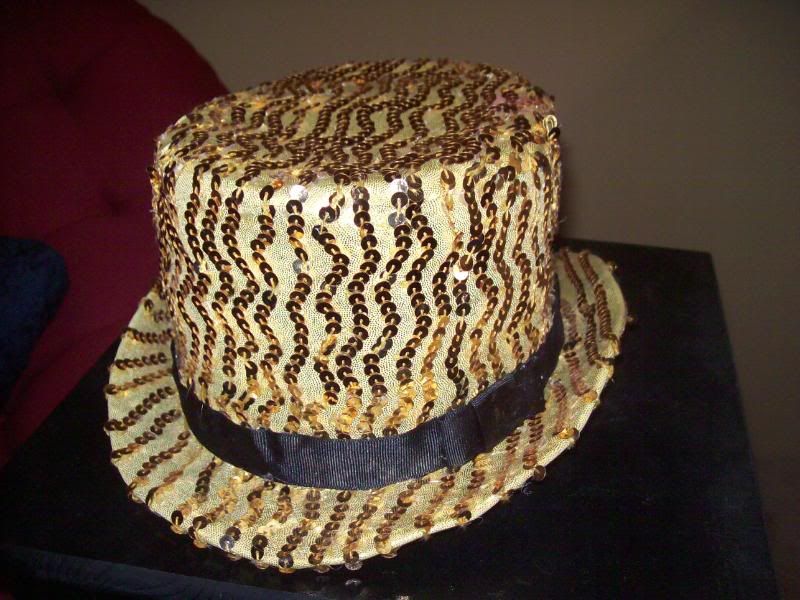 Columbia collar
I found this dog collar online and thought it looked pretty columbia-esque. All the hardware on it was silver, but I painted it all gold. However the paint on hoop on the front has come off so it is silver again. The rhinestones aren't clear, they are a darker color.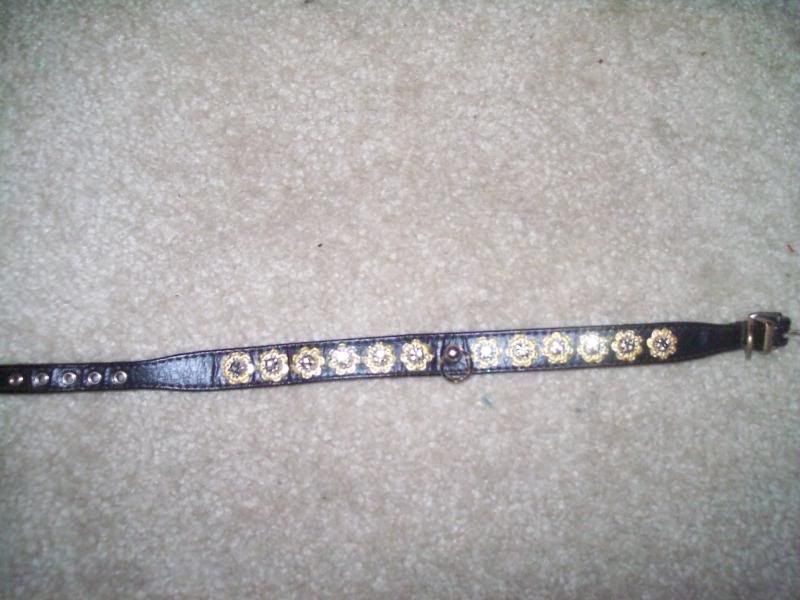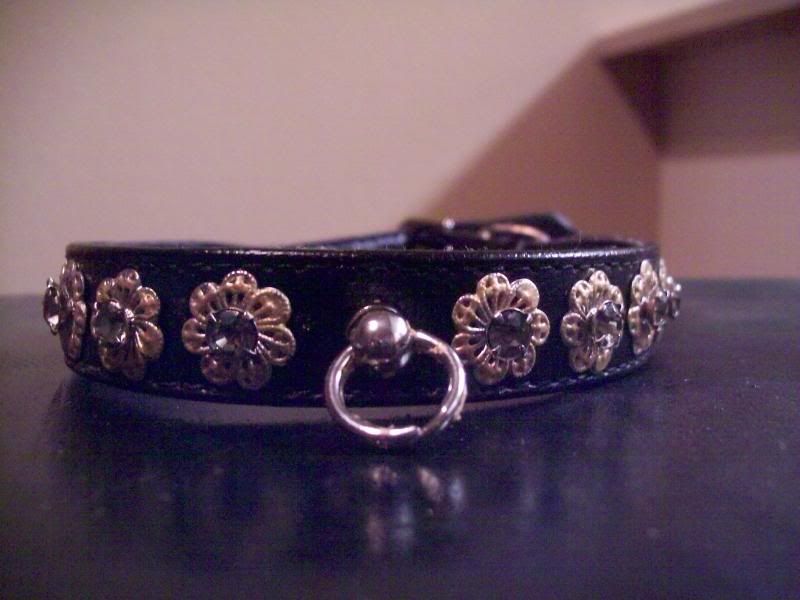 Columbia tap shoes
They have iridescent blue and silver sequins. They are made with Sansha character shoes and have no taps. Says size 9 on the shoe, but they run some kinda crazy dance sizes, so the shoes actually fit more like a 7.5 or 8. They velcro, so they are great for quick changes.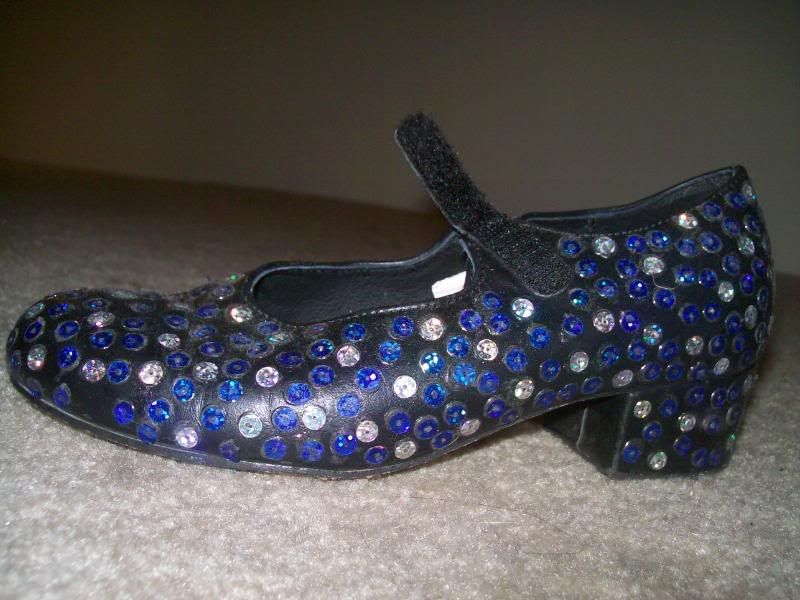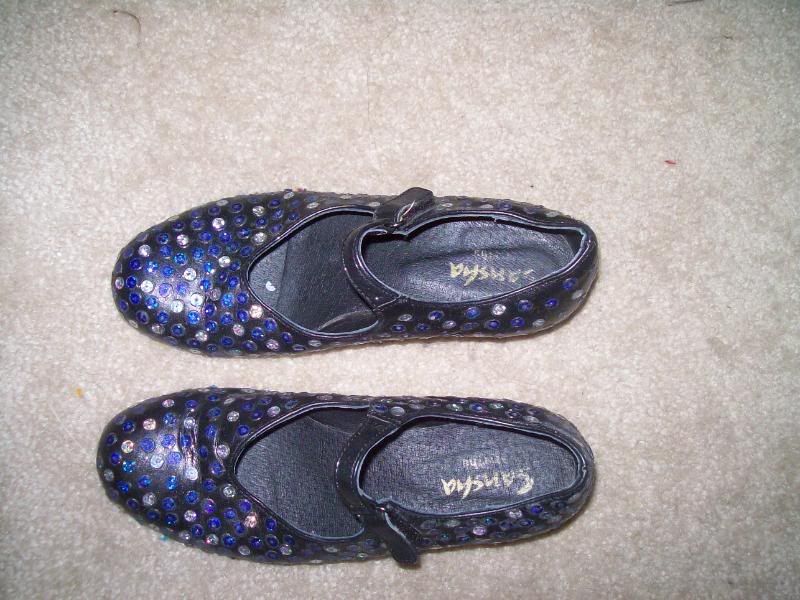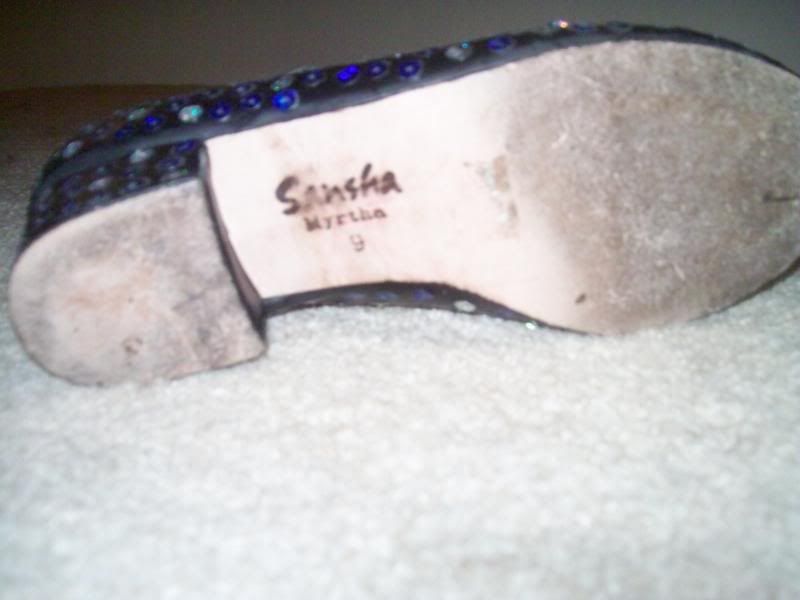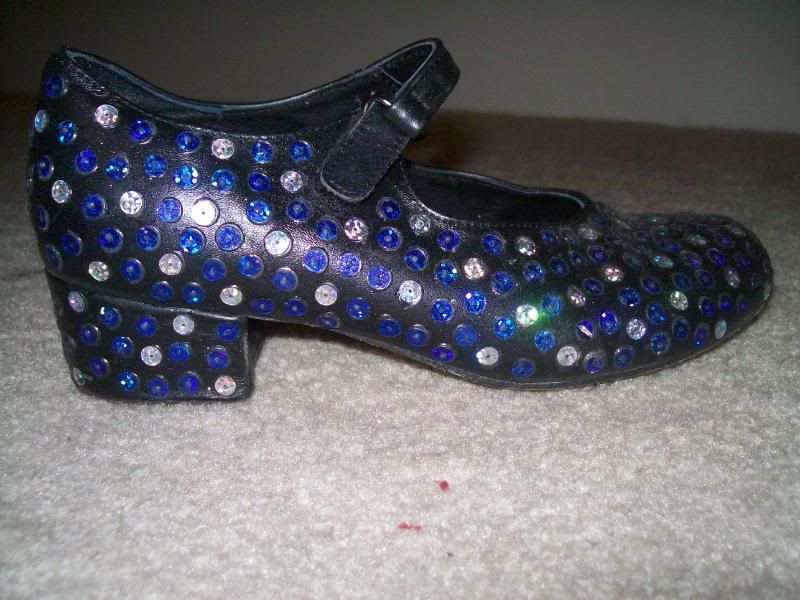 Columbia Tailcoat
I altered a gold sequin jacket I found on ebay into a tailcoat. Its for a small columbia. I would size it at about a size 2. However, I'm 5'5 and the arms were always a bit too short for me, so I'd recommend it for a shorter Columbia.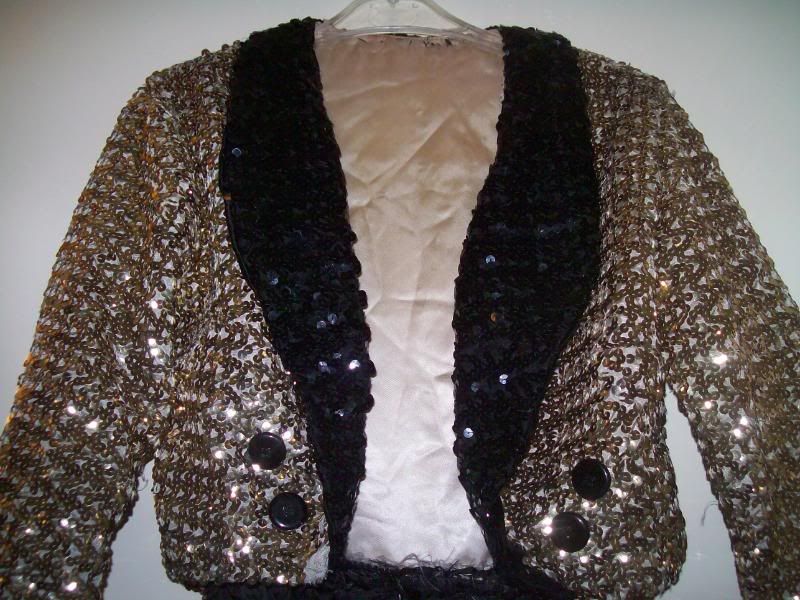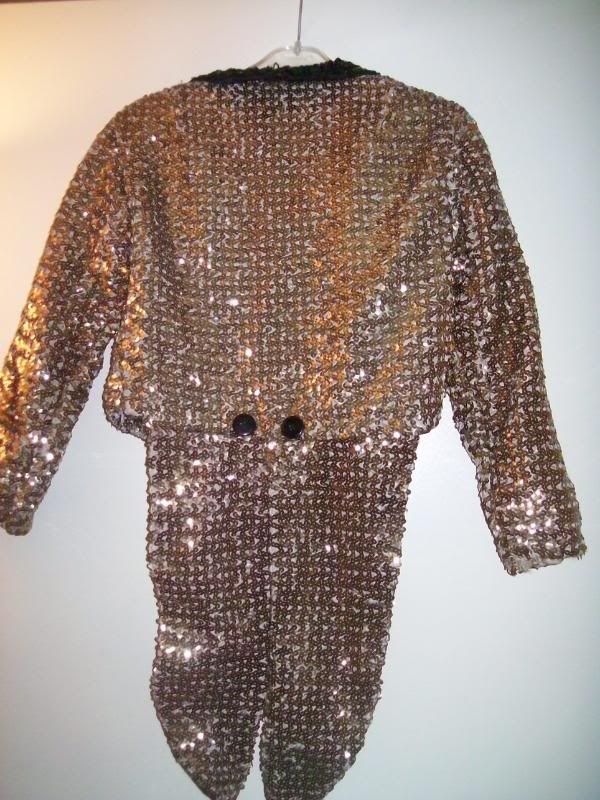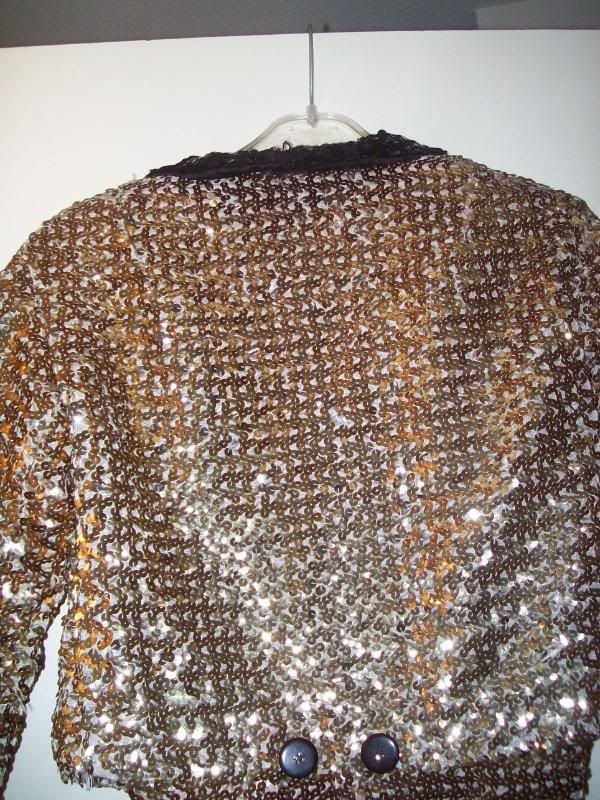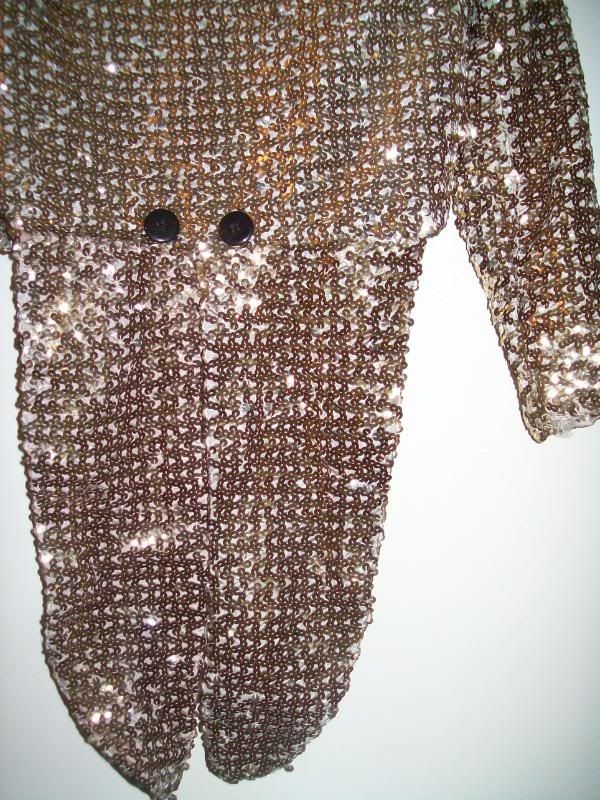 Columbia PJs
Blue and White striped Columbia Pajamas. They are from Target and are a men's size small. They have a little bit of a red stain on the color from the red hair color on my wig. They also have the shoulder and nipple hole torn in them.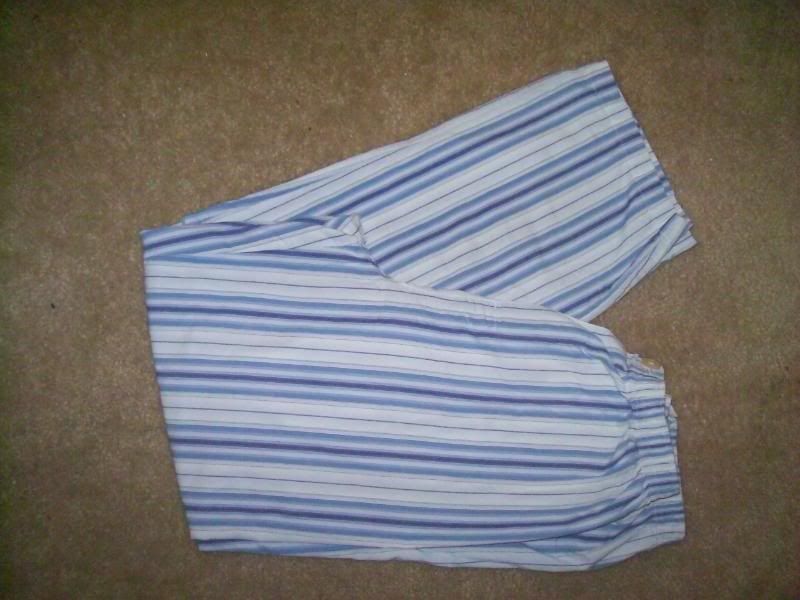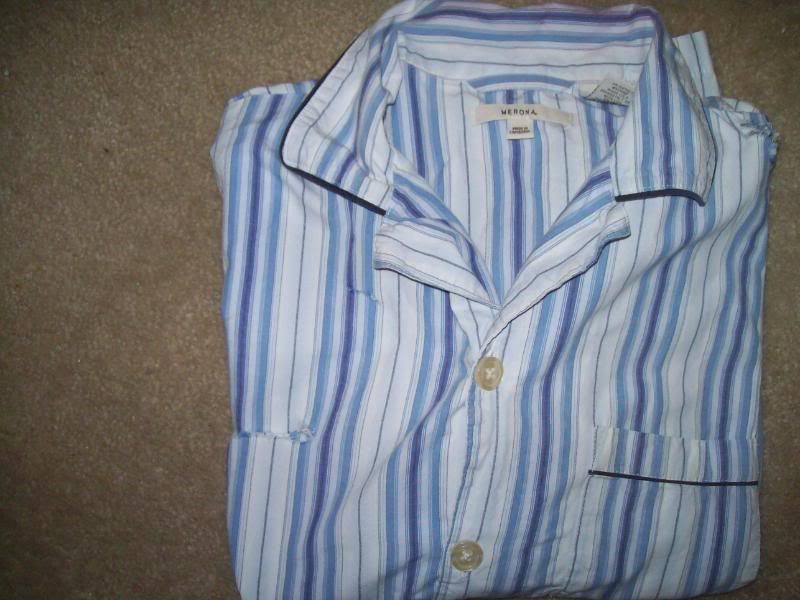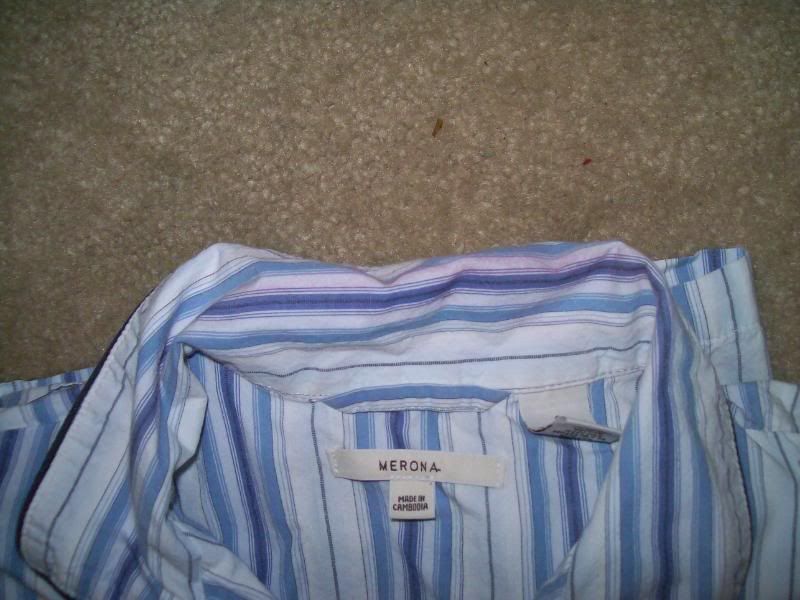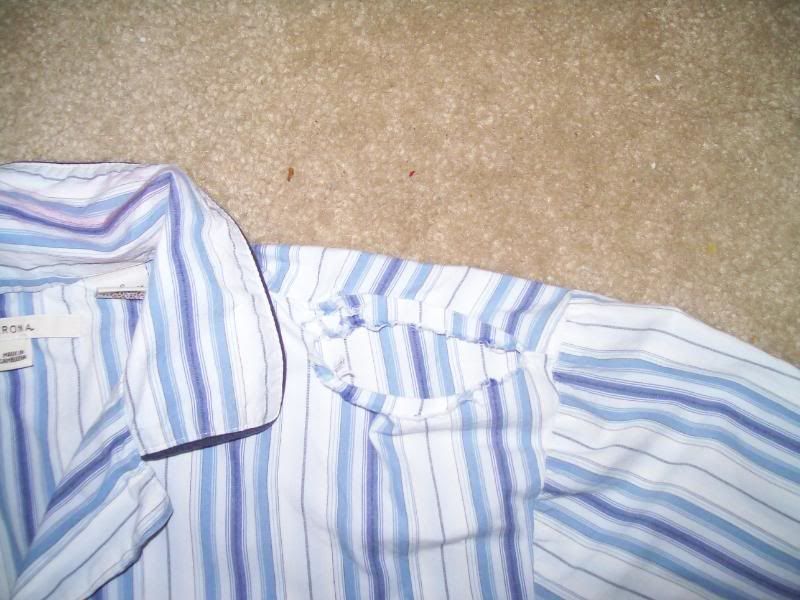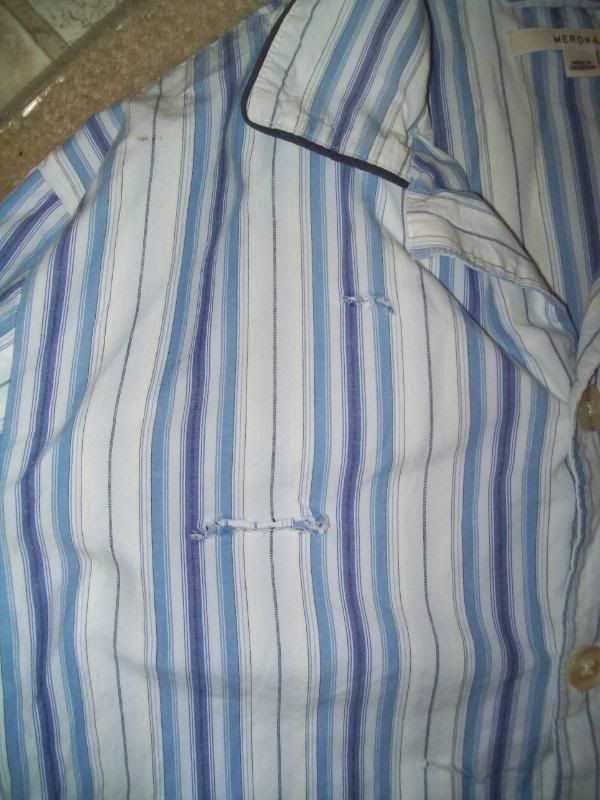 Janet Name necklace
It's the gold plated one from Walmart.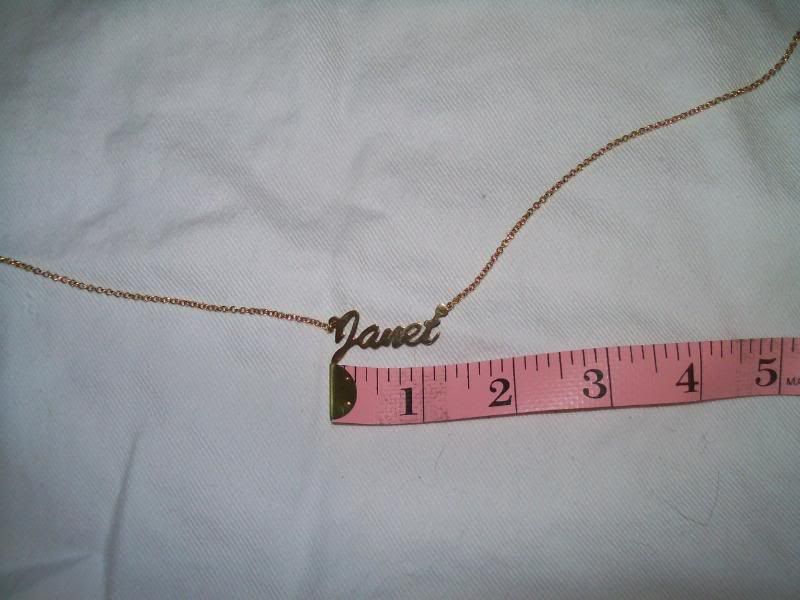 Janet Pink Dress
I had this custom made by a seamstress. Its approximately a size 2. (my measurements are 35-27-35) The zipper broke a while back and I had it replaced, but they replaced it with a shorter zipper. I've never been that happy with the new zipper cause it makes it harder to get the dress over my hips, so unless you are smaller than 35 inches, you may want to put in a longer zipper. The belt does not actually buckle- it velcros together to make it easier to get off. However it does mean that it is not adjustable and will only fit if your waist is 26 to 27 inches.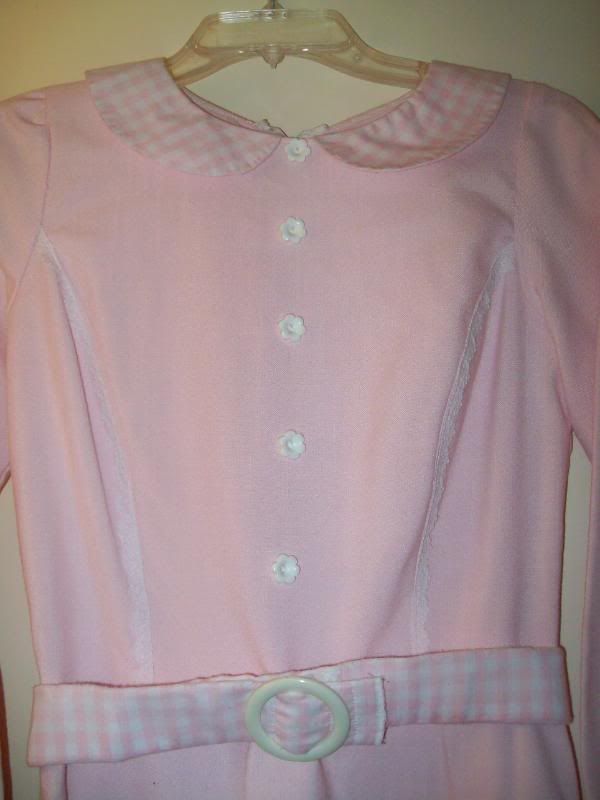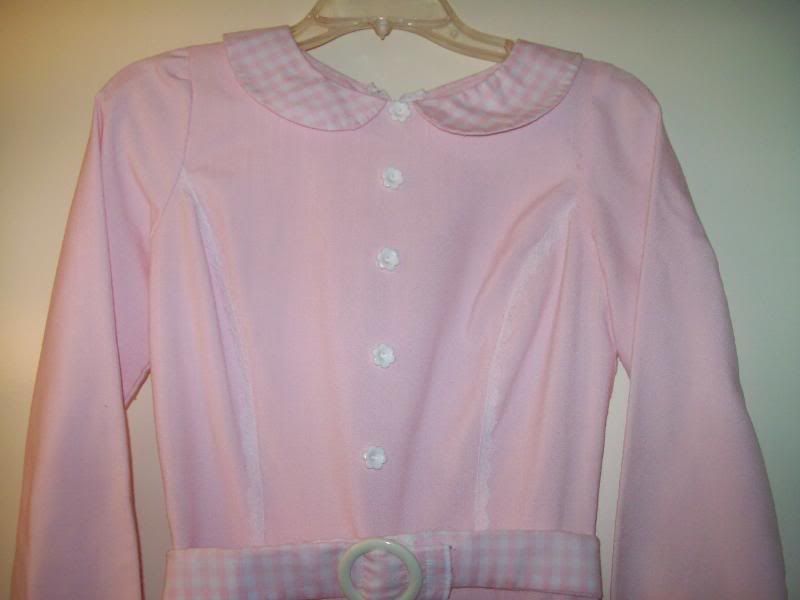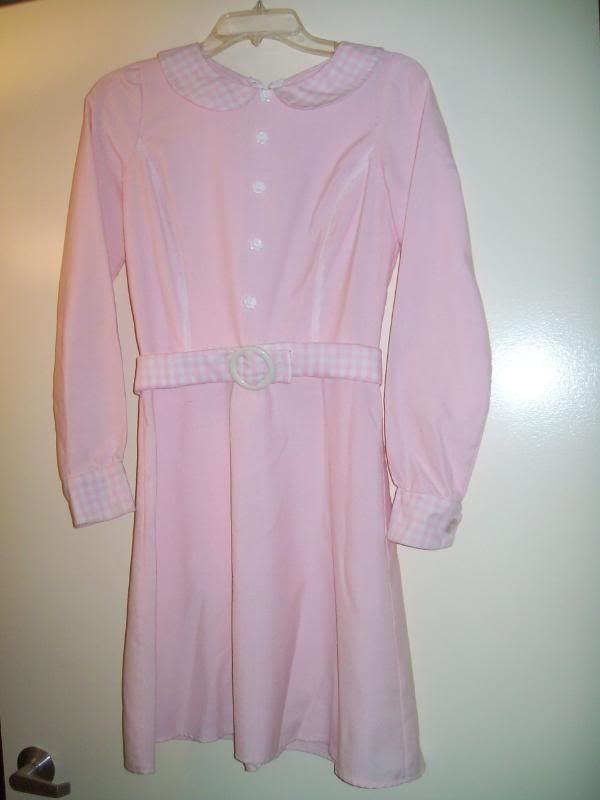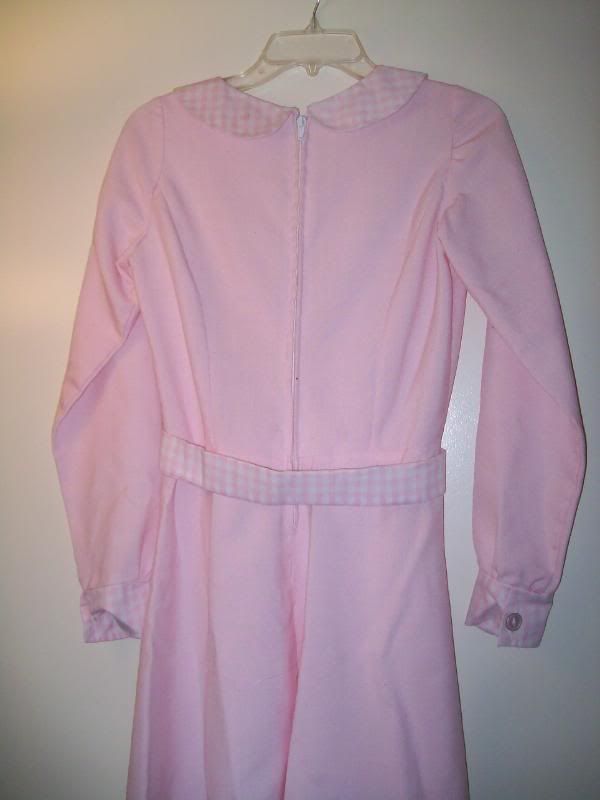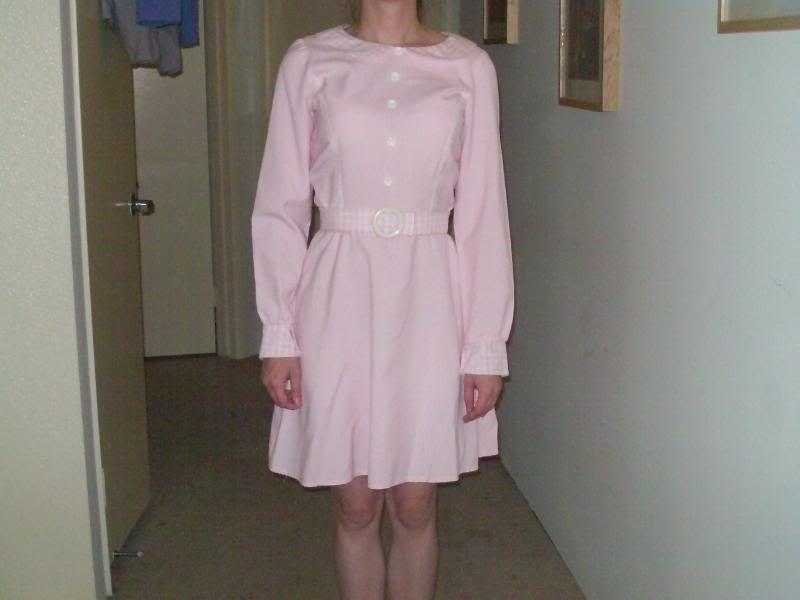 Gold Sequin Fabric
4 yards of stretch knit gold sequin fabric. About 35 inches wide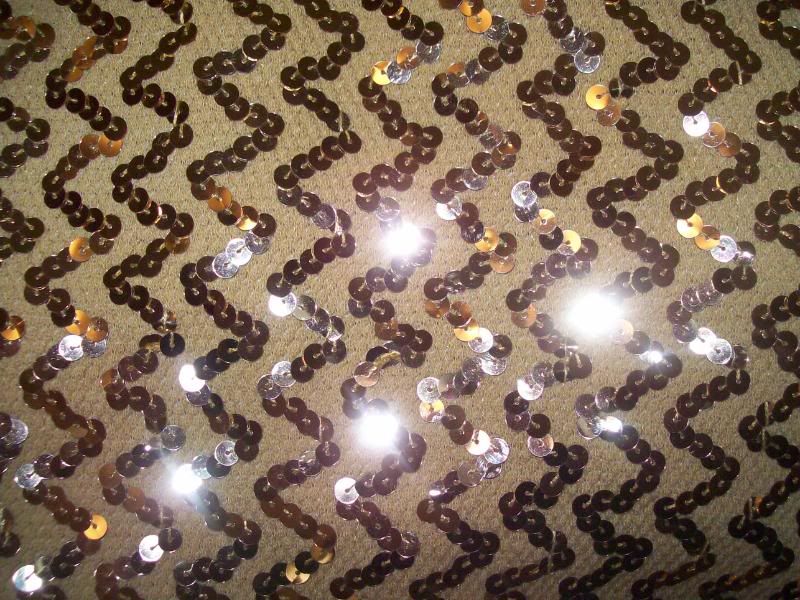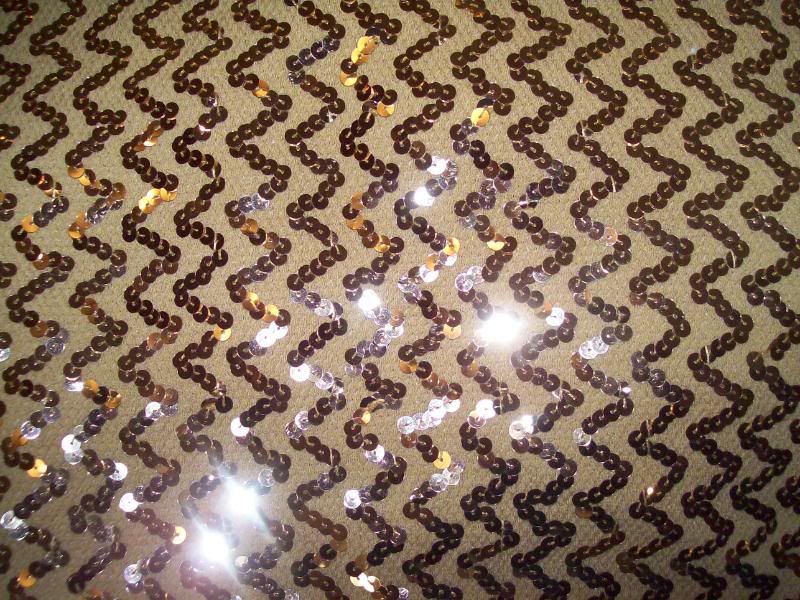 I'm selling everything on ebay username LSUtiger1999
Email me if you have questions- elbereth_01_03 at yahoo dot com